A user on Reddit managed to get his delivery of the 2020 iPad Pro (11-inch model) two days ahead of Apple's schedule, and its early benchmark numbers are in. Turns out, the A12Z Bionic is not all that much faster than the existing A12X Bionic chip found in the 2018 iPad Pro model.
According to Reddit user Zindexed, his iPad Pro clocked a score of 1114 and 4654 on Geekbench 5's single and multi-core tests, respectively. In comparison, the existing 2018 iPad Pro that we have scored 1115 and 4713 respectively on the same tests. The difference in score is well within the margin on error, and thus, can be said that the CPU computing power on the two iPad models is identical. Where things get different is the Metal score, which relies on the GPU. The new iPad Pro scored 9894 while our 2018 model scored 8990, a minute bump in performance. On AnTuTu, the new iPad Pro clocked a score of 187648 for the CPU, 348519 for the GPU and 71476 for Memory. Our 2018 iPad Pro scored 163337 on CPU, 342982 on GPU and 89983 on memory. We ran the benchmarks on our 2018 iPad Pro for this story, making sure it was updated to iPadOS 13.4.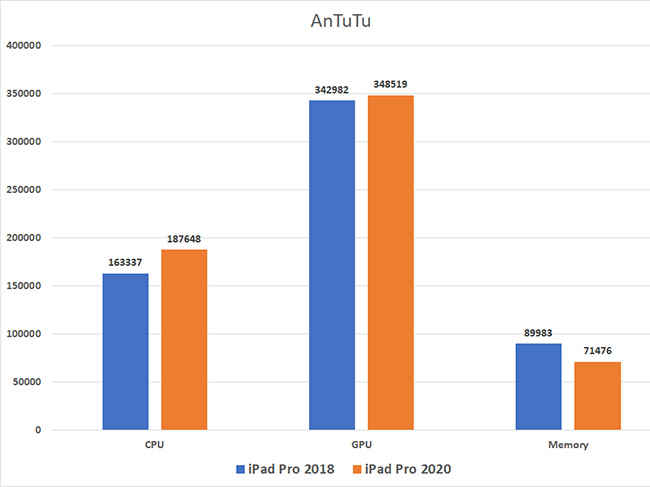 AnTuTu scores for iPad Pro 2018 vs. iPad Pro 2020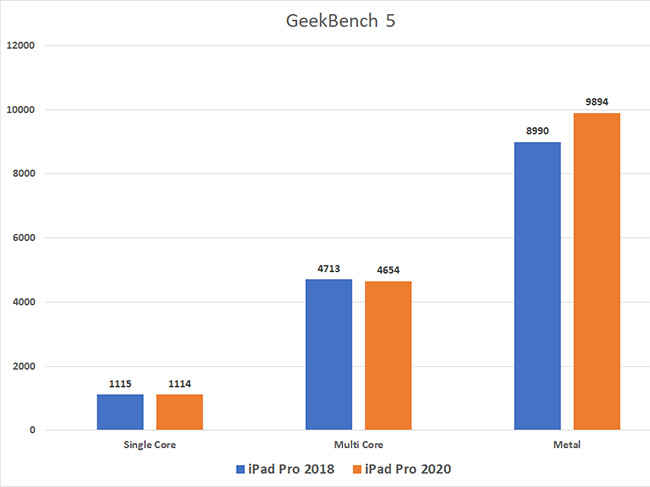 GeekBench 5 scores for iPad Pro 2018 vs. iPad Pro 2020
The two tablets are powered by a very similar SoC, the only key difference between them being that the A12Z Bionic has an extra core in its GPU cluster. At least that's all Apple has shared up until now. The new iPad Pro also comes with 6GB of RAM, a feature that was limited to the 1TB variant of the 2018 iPad Pro only. In case you're wondering what's changed and what's remained the same between the two iPad models, you can check out our thorough comparison here.
Apple had been long rumoured to be working on a new iPad Pro model, however, the model announced by Apple recently seems to feel rather out of place. The iPad Pro has always been the flagship Apple tablet, with the most top-end features, yet Apple has used an older SoC. The latest SoC from Apple is the A13 Bionic, powering the current iPhone 11 series of smartphones, so we would have thought that the company would use an A13X Bionic chip for the new iPad Pro. Additionally, once the company announces the new iPhone later this year, the A12Z would be two generations old. The 2020 iPad Pro feels like a product misplaced in time. Rumours do persist that the company may be working on another iPad Pro model, one with a mini-LED display to be launched later this year.