Western Digital announced the India launch of its performance-oriented WD Velociraptor drive with a 1TB capacity. This 10,000 RPM VelociRaptor is an upgrade to the older 600 GB VelociRaptor. The WD VelociRaptor will also come in capacities of 500GB and 250GB. This generation of Velociraptor has bumped up the buffer size from 32MB to 64MB with a platter density of 333GB.
It sports the NoTouch ramp load technology which ensures that the recording head never touches the disk media ensuring less wear of the recording head and the media and also better protection of the drive in transit.
Commenting on the launch of Velociraptor 1TB in India, Western Digital's Khwaja Saifuddin, Director Sales -Middle East , Africa & South Asia, said, "The high performance 1 TB WD VelociRaptor is aimed at enabling power users such as gaming enthusiasts and media professionals to push their creative boundaries. The drive delivers the ultimate combination of speed and storage, and Indian professionals with heavy computing requirements will be delighted with its power-packed performance."
The WD VelociRaptor 2.5-inch hard drive comes in the IcePack enclosure, a 3.5-inch mounting frame with built-in heat sink - a factory customization that fits the drive into a standard 3.5-inch system bay and keeps the powerful drive extra cool when installed in a high-performance desktop or workstation system.
Manufacturer's Suggested Retail Price (MSRP) for the WD VelociRaptor 1TB (WD1000DHTZ) is Rs.15,499 plus local taxes, the 500GB version (WD5000HHTZ) is Rs. 9,299 plus local taxes, and the 250GB version (WD2500HHTZ) is Rs. 6,199 plus local taxes.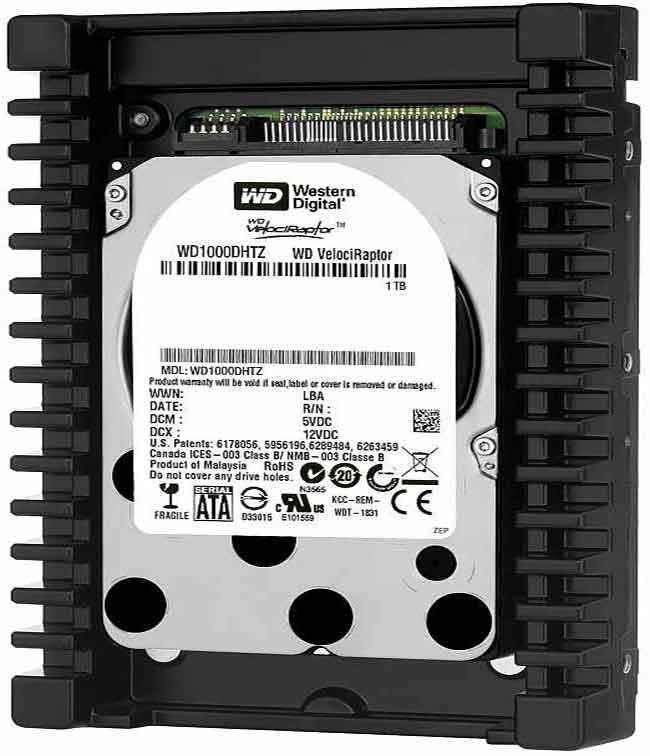 Tags:
NoTouch ramp load technology
WD
Western Digital
WD Velociraptor
Western Digital Velociraptor
WD VelociRaptor 1TB WD1000DHTZ
WD VelociRaptor 500GB WD5000HHTZ
WD VelociRaptor WD2500HHTZ
WD VelociRaptor 1TB WD1000DHTZ Price India
WD VelociRaptor 500GB WD500