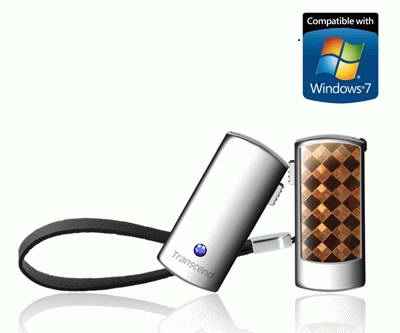 Transcend Information, Inc. (Transcend), a global leader in storage and multimedia products, reportedly launched a new 16 GB version of its JetFlash V95C USB flash drives today. It is said to incorporate an interesting feature - a retractable USB connector. Also, it is coated with an attractive deep-gloss finish and decorated with the elegance of a genuine Swarovksi Sapphire crystal. This new model claims to represent a symbol of luxury, backed by cutting-edge technology.
Speaking on this auspicious occasion, Mr. Gordon Wu, Regional Head - South Asia, Transcend, has reportedly stated, "Although the 16GB JetFlash V95C is ultra compact, the USB flash drive is capable of storing up to 6552 still images (based on 5MP JPEG compression format) or 240 minutes of high-definition 1080p video. Each JetFlash V95C comes with a refined leather strap, making it a convenient yet fashionable way to backup, store and carry digital files."
The JetFlash Elite management tools are available for free download from the Transcend's website to enhance the user's mobile productivity and allow him to get the most out of the JetFlash drive. Like its predecessors, the 16GB JetFlash V95C USB flash drive is said to be backed by Transcend's industry standard lifetime warranty. The JetFlash V95C is rated to offer up to 15MB/s transfer speeds and available in four storage avatars namely: 2GB, 4GB, 8GB and 16GB.
Price and contact details:
Contact:
Supertron: 91-33-2213-1221/23;
Warranty: 3 years
Price: Rs. 3,650 (16GB)