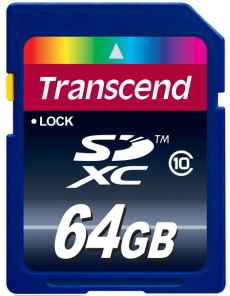 Transcend, the popular Taiwan-based manufacturer of memory products, has unveiled its first 64GB Class 10 SDXC card, as part of its Ultimate SDXC card range.
SDXC stands for Secure Digital eXtended Capacity, and is the next-generation standard for SD cards established by the Secure Digital Association (SDA). The standard supports cards from 32GB up to 2TB, and is much more capacious than the older SDHC standard, which goes up to 32GB.
Transfer speeds are approximately 25MB/s, and on average, the 64GB SDXC card can store a maximum of 26208 5MP pictures, 352 hours of 384kbps MP4 video, or 640 minutes of 1920x1080 videos. The exFAT file system also allows the SDXC to support files larger than 4GB.
The Transcend Ultimate 64GB Class 10 SDXC card will also feature lifetime warranty, and is priced at Rs. 15,000.