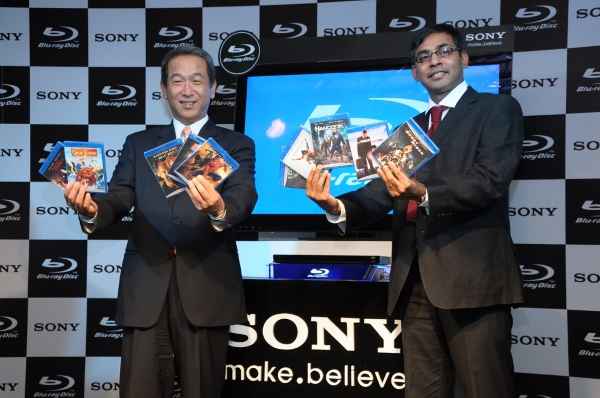 Sony introduces Blu-ray technology in a wide range of Sony products including: upto 500 Blu-ray movie titles on Blu-ray Discs, Blu-ray Disc players, home theatre systems, PlayStation 3 & VAIO. It is estimated that Blu-ray market could grow up to 5 lakh units by FY2012 and Sony India aims to capture 60% market share and sell about 3 lakh units by 2012. Sony is reported to offer attractive introductory offer to the consumers on purchase of every BD player worth Rs.9,990 & get two complimentary Blu-ray discs of Legion & Michael Jackson's.

The Blu-ray technology products are rated to provide High Definition picture and audio quality as well as internet connectivity to consumers. Hence, it is expected Blu-ray technology could make your High Definition world of home entertainment come alive by enriching the user experience while watching movies, listening to music, playing games, recording and storing content.

Speaking on this occasion, Mr. Masaru Tamagawa, Managing Director, Sony India, said, "Sony Blu-ray is poised to take over the market as the new benchmark for the next generation of audio-visual entertainment. Only with Sony, you can enjoy new audio-visual entertainment concept through a wide range of Blu-ray products with base price of Rs. 9,990/-. As always, we continue to offer products and technologies that manifest innovation at its highest level as well as the ability to deliver the best customer experience to the world."
Sharing his view points about the launch of Sony's Blu-ray technology, Mr. Keith Ribeiro, Managing Director, Sony Pictures Home Entertainment, said, "Over the past decade, rapid growth in technology has evolved the way in which home entertainment and consumer electronic industry is perceived. A collaboration of these two industries can certainly promote cutting-edge media and entertainment devices. Also adding that, "Blu-ray is paramount in delivering the best picture and sound quality and is a perfect complement for HDTV, the fastest growing category in consumer electronics. Hence, we have joined force with our counterpart at Sony electronics to help consumers discover the incredible potential of Blu-ray. We also plan to double the number of software titles to 500 by FY2010 to woo consumers. I am certain that this integration will further cement Sony's unified presence as a leader in consumer electronics space."
Software enhancements like BD Live, Enhanced Bonus Views, Interactive features are said to enhance the appeal of Blu-ray products. With Internet Video, a service platform, you are invited to enjoy various Internet video contents without a PC or you could watch internet-based content from video-sharing sources like YouTube, or from Video On Demand (VOD) on your TV to which Sony's BD Player is connected.
Specifications of Blu-ray Disc Player S370:
| | | |
| --- | --- | --- |
| Model No. | Key Features | Price |
| Blu-ray Disc player BDP-S370 | Blu-ray, Full HD 1080p, 24p True Cinema, Internet Video, Wireless LAN ready | Rs 9,990 |