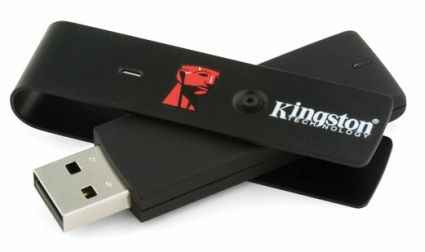 After recently boosting the read and write speeds on the DataTraveller 410 USB Flash Drive, Kingston has now launched the device in the Indian market. Shipping in capacities up to 32GB, the speedy DT410 allows for faster file transfers with read and write speeds of 20MB/s, and is password protected to help keep data secure.
"Power users, enterprise customers and everyday consumers have wanted the ability to store and move large files around faster as USB Flash drives have become more prevalent in everyday use," said Andrew Ewing, USB business manager, Kingston. "Based on customer feedback, we developed the DataTraveler 410 with higher data transfer rates and security in mind as well as a terrific price point."
The faster read and write speeds make the DT410 the ideal drive for high-definition photos, large documents, presentations, music, videos and other data. It includes SecureTraveler software which allows users to create and access a password-protected area of the drive called the 'Privacy Zone'.
The increased data transfer rates of the DT410 follow a recent speed bump of the higher capacities (16- and 32GB) of Kingston's consumer-level DataTraveler I, DataTraveler 101 and DataTraveler 112 drives to read and write speeds of 10MB/sec. These drives offer consumers choices in color, capacity, and whether the USB comes with a cap, retractable body or swivel design.
Here's a quick overview of the DT410's features:
Dimensions: 65.76mm x 17.98mm x 10.7mm
Fast: Data transfer rates of up to 20MB/sec. read and 20MB/sec. write
Operating Temperature: 0 degrees C to 60 degrees C
Storage Temperature: -20 degrees C to 85 degrees C
Simple: Just plug into a USB port
Practical: Capless swivel design protects USB connector; no cap to lose
Safeguarded: Includes SecureTraveler security software for Windows
Enhanced: For Windows ReadyBoost on Vista-based systems
The faster speeds do dictate a boost in the price as well, across all the four capacities:
DT410 4GB: Rs. 999
DT410 8GB: Rs. 1,650
DT410 16GB: Rs. 3,350
DT410 32GB: Rs. 5,777