#IBMCodePatterns, a developer's best friend.
#IBMCodePatterns provide complete solutions to problems that developers face every day. They leverage multiple technologies, products, or services to solve issues across multiple industries.
Click here to know more
Advertisements
The most important thing to look for in an external hard disk is warranty period. In simplest terms, the longer the warranty, the better it is for you. Eventually, your hard disk is going to fail, so what you have to do is plan a series of purchases where you can keep moving all the data to newer hard disks before the previous ones fail. Then the next consideration is the amount of storage space on the drive. The more data that the drive offers, the cheaper it is per TB. If you want more bang for buck, you also have to spend more money. Another important thing is to check whether the device supports high speed data transfer on USB 3.0 ports. Some older drives do not have support for the latest generation of USB interfaces. Then you can look at the bundled software and extra features. All things considered, these are the best options below. Note that many of these products have seen steeper discounts in the past, and that these are not the lowest prices that they have been available at. In most cases, the difference is of a few hundred rupees. Hard disk prices fluctuate wildly in the market, because of a number of factors. In any case, these are the best deals available at the moment.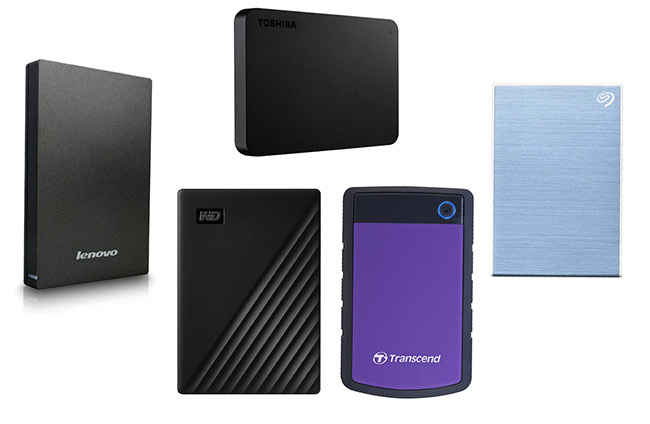 Seagate Backup Plus Slim (buy here)
The hard disk is available in variants from 1TB, 2TB and 4TB variants, all of them of the same size. The enclosure is made of brushed aluminum, which looks sleek and is sturdy as well. The drive comes with a 3 year warranty. There are two software offerings thrown in, including a two month Adobe CC Photography subscription, and a year long Mylio subscription. High speed transfers on USB 3.0 is supported, and you can schedule automatic backups using the software. Also these drives are available in 9 colour options, so you can really get something that matches with all your other stuff.
Western Digital My Passport Portable (buy here)
This external hard drive is available in 1TB, 2TB,4TB and 5TB variants, and comes with a three year manufacturer's warranty as well. It is possible to schedule automatic backups using the software. The device is available in three colours, and there is an optional pouch that costs nothing extra to get. There is support for USB 3.0 for high speed transfers as well.
Toshiba Canvio Basic (buy here)
This hard drive has a matte black finish and comes with a 3 year limited warranty. The drive is available in 1TB, 2TB and 4TB variants. There is support for high speed transfer with USB 3.0 ports. The drive makes up for a lack of colour options with a number of case options, which you can choose from for a few hundred extra bucks.
Transcend StoreJet 25H3 (buy here)
While most of the other hard disks offer single click backup facility using a software interface, this one has a physical button for the job. This button can also be used to disconnect and reconnect the hard drive without physically removing the cable. It is also a rugged device with a shock resistance shell. The device is a 4TB device, and offers the standard 3 year limited warranty. There is support for USB 3.0.
The hard disk is available in 1TB and 2TB variants, and has a warranty period of 1 year. It supports higher data transfer speeds on machines with USB-3 ports, and there is a multicolour LED indicator to show the HDD status. This is an inexpensive, no frills offering.
For more deals, check out our Amazon Prime Day coverage for SSDs and internal storage, mesh routers, portable bluetooth speakers, and wireless headsets.