AMD is well know for making CPUs, APUs and of course graphics processors and recently we heard that the company has ventured into the storage business and has collaborated with the popular memory and storage hardware maker OCZ.
AMD has announced the Radeon R7 branded SSDs which will be the first drives to use Toshiba's new A19nm NAND memory chips. According to AMD, the drives use a specialized firmware variant and an overclocked firmware that is suppose to be better than other SSD drives available in the market.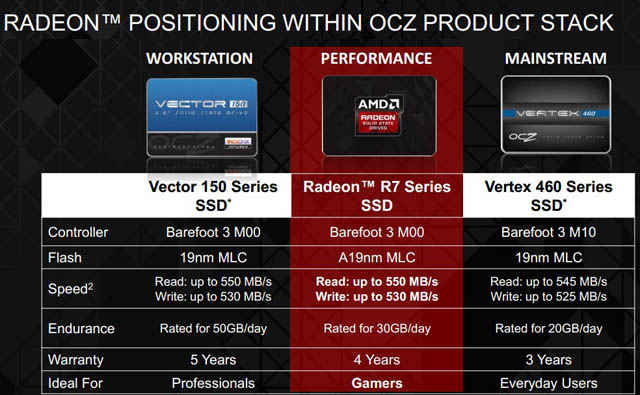 One can get a maximum capacity of 480GB and the drives have maximum sequential write speed of 530MB/s and sequential read speeds of 550MB/s. The endurance of the AMD SSDs are rated 30GB/day which is quite decent and also comes with 4 years of warranty.
AMD has priced the SSDs quite modestly at $99 (Rs. 6,000 approx.) for a 120GB drive, $164 (Rs. 9,950 approx.) for a 256GB drive, and $290 (Rs. 17,600 approx.) for a 480GB drive.
Via: Extreme Tech