ADATA introduced today the XPG SX8000 SSDs that use an M.2 form factor along with 3D MLC NAND Flash. The SSDs are powered by an SMI 2260controller and meet the NVMe 1.2 specifications to connect directly to motherboards via PCI Express 3.0 x4 (PCIe 3x4) slots. This enables them to deliver them read and write speeds up to 2.4GB/s and 1GB/s respectively, along with 100K/140K IOPS. ADATA's SX8000 SSDs are available with 128GB, 256GB, 512GB, and 1TB capacities. ADATA also hinted towards an advanced version of the SSDs fitted with an attractive XPG heatsink will be releasing by the end of October, to add to the aesthetics for case modding enthusiasts. The SSDs are backed by a 5-year warranty too.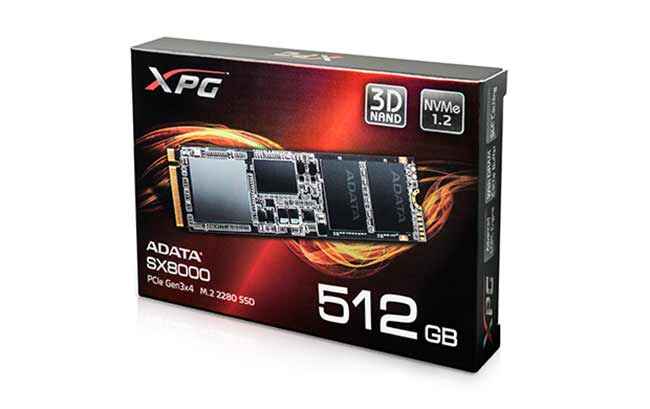 You can connect the XPG SX8000 SSDs to desktop and notebook PCs via the M.2 2280 and channels data through PCI Express 3.0 x4. The SX8000 is fully compatible with NVMe 1.2, reducing loading times within games that require heavy asset streaming and in professional applications such as graphics and audio rendering.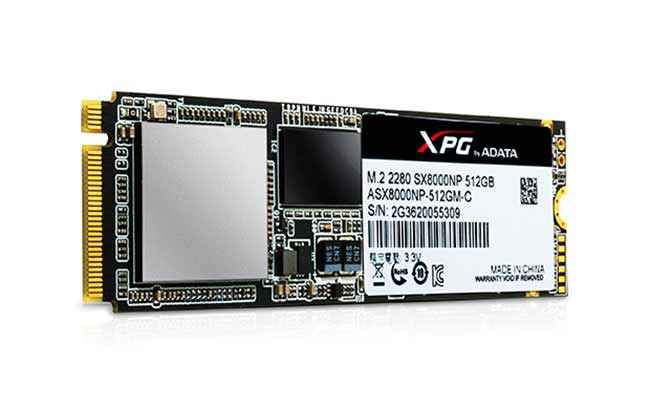 The SX8000 series SSD feature a 2 million hour MTBF (mean time between failures) rating, or 25% longer than 2D NAND SSD (which average 1.5 million hours), claims ADATA. ADATA's firmware design takes also prioritises data performance and integrity with its Intelligent SLC Caching. The Intelligent SLC Caching also allows the drive to operate in pseudo single-level cell mode for speed boosts when extreme data loads are encountered. It can also leverage system RAM to increase performance via DRAM Cache Buffer, helping maintain consistent throughput even during the most intense tasks. LDPC ECC (low density parity check error correction) prevents data corruption and promotes integrity, while Data Shaping evenly distributes task loads across NAND Flash cells. The SX8000, therefore sounds to be a feature and powerful SSD on paper, but real world performance tests and benchmarks could only confirm the same. Stay tuned for the review!