Xiaomi MIUI 9, the next iteration of company's custom Android skin is finally official. The new MIUI 9 based on Android 7.0 Nougat was unveiled at an event in Beijing and it brings three new features on top of core Nougat features from Google. The first smartphone to offer the new user interface is the newly launched Mi 5X and Xiaomi is reportedly planning to update a total of 19 Mi and 17 Redmi series devices to the OS.
Xiaomi states that its MIUI has 2.8 billion active users from 142 countries, speaking 55 different languages. Xiaomi also says that MIUI 9 is lightning fast and offers faster app launch times, and uses dynamic resource allocation that does its own thinking to allocate priority to in-app use. Xiaomi has also refined the UI for improvised feedback, smart CPU acceleration and optimised thread scheduling.
While MIUI 9 is an overall performance improvement, it also brings three new features - image search, smart assistant and smart app launcher. All the three new features will only be available in China at the time of launch, but are expected to become available globally at a later stage.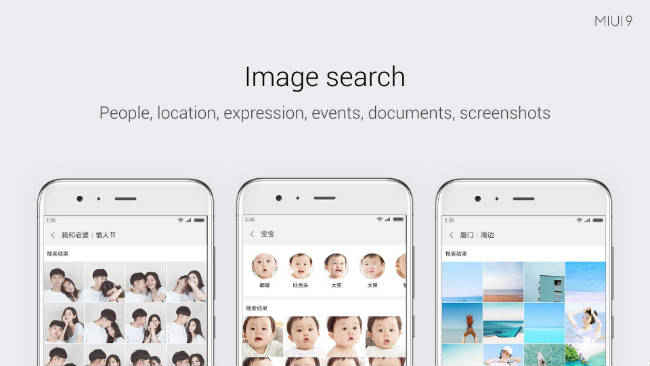 Image Search: As the name implies, Xiaomi is bringing a state wide image search to its ecosystem. The feature is similar to the image search feature on the Google Photos and Apple Photos apps. MIUI 9 users can search for images by keywords like people, location, expressions and events. The image search is also capable of digging up images within conversations.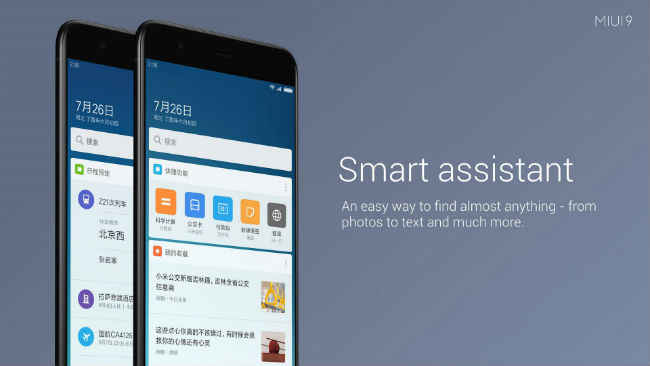 Smart Assistant: The smart assistant from Xiaomi is akin to the Google Assistant and primarily serves as a way to find anything from text to photos. The smart assistant can also find schedules and notes from the device.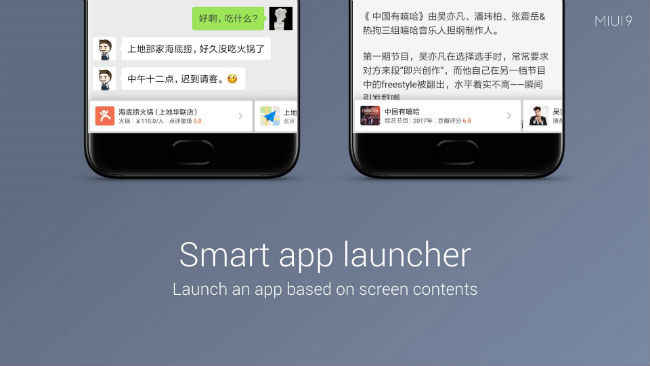 Smart app launcher: This new feature is an implementation similar to Google Now on Tap. The feature enables MIUI 9 users to launch an app based on content displayed on the screen. For context, the smart app launcher will open Maps if the user is talking about a particular location. It can also pull up details about an author if the user is reading an article citing that author.
Xiaomi seems to have completely refined its user interface on top of Android Nougat. The new MIUI also brings split screen multitasking to all compatible Xiaomi smartphones. While Xiaomi is rolling out these new features only to Chinese users, all other users will have to wait for its global availability.