To take the cinematic experience of the Apple TV 4K to the next level with support for Dolby Atmos, Apple has previewed tvOS 12, a new operating system designed for enjoying entertainment on the big screen. The tvOS developer preview is now available for Apple Developer Program members. The new tvOS will be available this fall as a free software update for Apple TV 4K and Apple TV 4th generation. With tvOS 12, Apple TV 4K will become the only streaming player with both Dolby Vision and Dolby Atmos certified and deliver high-quality cinematic experience.
The Apple TV 4K offers customers the largest collection of 4K HDR movies, including free 4K HDR upgrades to previously purchased movies in customers' iTunes libraries, the company claimed. Apple said that this fall, iTunes will have the largest collection of Dolby Atmos-supported movies.
The company also announced that Charter Communications, the second-largest cable operator in the US, will begin offering Apple TV 4K to their customers. The iPhone-maker said that customers by the end of this year in nearly 50 million households will have access to several live channels and on-demand programmes via a new Spectrum TV app on their Apple TV 4K, iPhone and iPad, integrated with Siri and the Apple TV App.
In addition, as part of this collaboration, Charter will be offering iPhone and iPad to customers as they grow their mobile presence, Apple said. With tvOS 12, Apple has further simplified the authentication process with zero sign-on.
"Apple TV simply detects the user's broadband network and automatically signs them in to all the supported apps they receive through their subscription — no typing required. Zero sign-on begins with Charter later this year and will expand to other providers over time," the company said.
With iOS 12, users can securely AutoFill passwords from iPhone and iPad to Apple TV to easily sign in to Apple TV apps. The Apple TV Remote will be automatically added to Control Center on iPhone or iPad for Apple TV users, giving users quick access to Apple TV controls.
Apple also previewed watchOS 5, an update to watch that will help users stay healthy and connected. Apple Watch 5 is a stronger companion for fitness, communication and quick access to information with a host of new features, including Activity Sharing competitions, auto-workout detection, advanced running features, Walkie-Talkie, Apple Podcasts and third-party apps on the Siri watch face, the company said.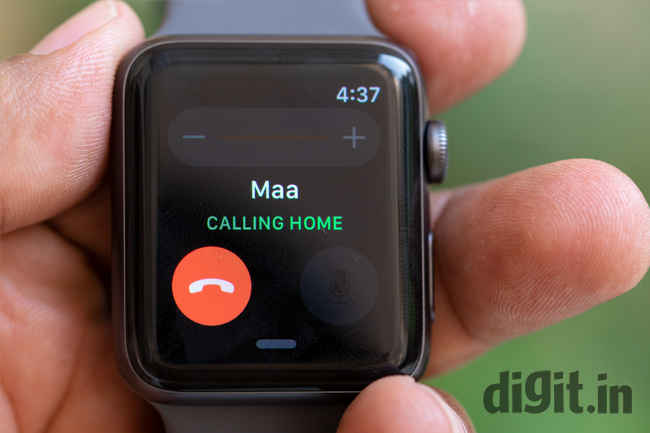 "Apple Watch is helping our customers stay connected, enhance their fitness and, in many cases, detect life-threatening conditions. With the launch of watchOS 5, we're excited to introduce new activity and communications features that will take the Watch to a whole new level," Jeff Williams, Apple's Chief Operating Officer, added.
watchOS 5 now enables users to invite another Apple Watch users to compete in a seven-day Activity competition, earning points for closing Activity Rings, while receiving coaching notifications to help stay engaged and win the week.
Not only that, the auto-workout detection provides an alert to start the correct workout and gives retroactive credit. watchOS 5 also delivers high-performance features for running enthusiasts, including a new cadence (steps per minute) metric for indoor and outdoor runs and walks, as well as a new pace alarm for outdoor runs that alerts users when they are behind or ahead of their designated target pace. The update also brings Walkie-Talkie, a new way to communicate with voice and just a tap of the wrist. This new watch-to-watch connection is fast, personal and can be activated between any compatible Apple Watch users around the world over Wi-Fi or cellular.
Apple also released a new watch face to celebrate Pride, which Apple Watch users can download from the Face Gallery in the Apple Watch app. The Pride Edition Woven Nylon band is updated with a new rainbow stripe with a donation being made to several LGBTQ advocacy organisations.
watchOS 5 will be available this fall as a free update for Apple Watch Series 1 and later and requires iPhone 5s or later on iOS 12. watchOS 5 will not be available on the original Apple Watch. The Pride watch face is available to add to the watch from the Face Gallery in the Apple Watch app on the iPhone and requires iOS 11.4 and watchOS 4.3.1. The new Pride Edition Woven Nylon band is available today on Apple online store and will be available later this week at Apple Stores and Apple Authorised Resellers. In India, the Pride Edition Woven Nylon band starts at Rs 3,900.