Microsoft has announced prices for its latest operating system, Windows 10, for Indian customers. A day after the operating system was launched, with one of Microsoft's 13 launch events taking place in New Delhi, prices have been enlisted on Microsoft's official store. While Windows 10 Home will cost Rs. 7,999, Windows 10 Pro will come with a price tag of Rs. 14,999.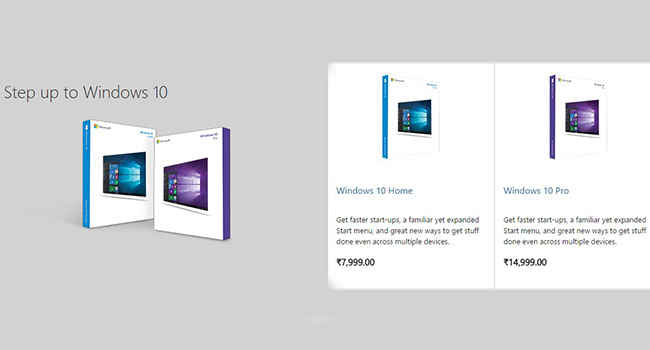 As part of its universal launch across 190 nations, Microsoft has rolled out Windows 10 to existing Windows 7, 8 and 8.1 users as a free upgrade. This move by Microsoft is aligned with CEO Satya Nadella's aim to power 1 billion devices worldwide with Windows 10. Microsoft also aims to phase out support for Windows 7, the six-year-old operating system that still powers a large number of computers worldwide, in about five years' time, and also phase out Windows 8 support by 2023. Previously, Nadella has spoken about Windows 10 not being designed as a standalone operating system for PCs, but as a universal platform for devices of varying form factors. Microsoft has also stated that Windows 10 will be the final version of Windows, to which it will keep providing rolling upgrades to keep the OS fresh.
Microsoft's move to provide a single, all-encompassing platform has seen them add and upgrade a number of features and services to Windows 10, including a desktop version of Cortana, its new internet browser Edge, a new multitasking layout, Continuum, and support for Microsoft HoloLens, Xbox One and seamless synchronisation with Windows 10 for phones. Windows Continuum will see a phone running on Windows 10 to convert into a fully functional PC when connected to a larger screen and keyboard bundle, which is one of the keystones on which Nadella is basing Microsoft and Windows' future on.
The move to provide initial free upgrades to Windows 10 has seen millions of copies being downloaded worldwide. While Microsoft will continue to make revenue by licensing manufacturers to equip devices with Windows 10, it will also hope to attract more users with the functionalities of Windows 10, thereby boosting future sales. Users who were not running licensed versions of Windows 7, 8 or 8.1 will be required to purchase Windows 10.
We had tweeted from yesterday's Windows 10 launch that PCs running on pirated versions of Windows will also get the upgrade to Windows 10, but will have a tattoo across the screen saying that it is not original, and also get routine pop-ups that will disrupt performance.