#IBMCodePatterns, a developer's best friend.
#IBMCodePatterns provide complete solutions to problems that developers face every day. They leverage multiple technologies, products, or services to solve issues across multiple industries.
Click here to know more
Advertisements
Microsoft has started to roll out the Windows 10 October 2018 update that brings new apps like "Your Phone" to gives users instant access to their Android phone's photos and texts on their computers. It also adds new innovations to Microsoft Office 365, To-Do and Outlook.com. At an event in New York, Microsoft also announced a refresh for its Surface family of products, the Surface Pro 6, the Surface Laptop 2, the Surface Studio 2, and introduced new Surface Headphones.
How to download Windows 10 October Update
Last month, Microsoft announced that it has revised its Windows 10 update pace to give businesses deployment flexibility under which it announced that the September/October update will be supported for 30 months from their release date. The Windows 10 October Update is the first major release after the announcement. Since it is a phased roll out, the company will also use real-time feedback and telemetry to update their users' device when data shows their device is ready. "You don't have to do anything to get the update; it will roll out automatically to you through Windows Update. Once the update is downloaded to your device and ready to be installed we'll notify you. You are then able to pick a time that won't disrupt you to finish the installation and reboot. We are continually working to improve the update experience with each new release of Windows 10," John Cable, Director of Program Management, Windows Servicing and Delivery, said in a company blog post.
Just like the April 2018 update Windows 10 feature update rollout, which utilised machine learning (ML) to identify devices that were ready to update, the October rollout will leverage the technology to rollout the update safely and quickly. Microsoft says that the April 2018 update is now the most widely used version of Windows 10. "Further, our artificial intelligence/ML targeted rollout approach led to the lowest call and online support requests for any release of Windows 10," the company claimed. With the Windows 10 October 2018 update, the company is incorporating more device signals such as improved driver telemetry and weighting of key features such as anti-malware software as it broadens the phased rollout. Microsoft will also be proactively monitoring the feedback and update experience data.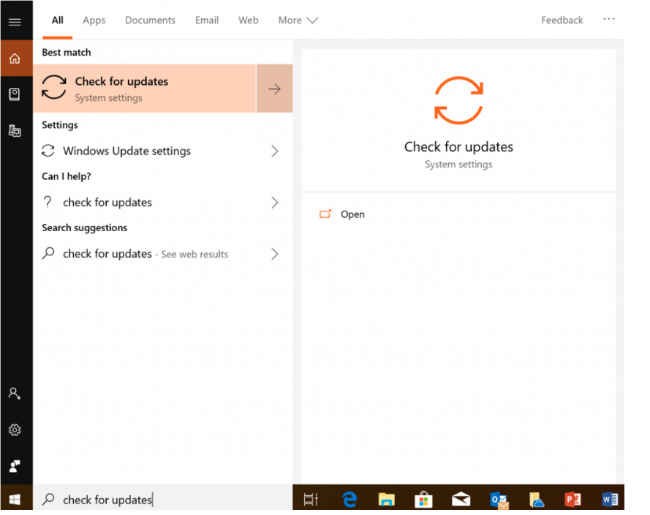 Customers can also start by manually checking for updates if they want to get the updates now, though, the tech giant encourages users to wait until the update is offered to the device. To install the Windows 10 October 2018 update now, users can go to the Search box in the taskbar and type "Check for updates." It will open a new window and on that, you can click "Check for updates" to begin the download and installation process.
Microsoft says it has it is improving the whole update experience for mobile users on laptops and 2-in-1 devices. "We have improved Windows ability to know when a device will not be in use and perform certain update activities then, so as not to disrupt the user. This ability to update at night when plugged in and not on battery power will help hide update activity and minimize user disruption from updates. To further minimize disruption (in case your system is updating overnight), Windows also silences audio when it wakes for Windows Updates. If your device hasn't updated for several nights, we will then suggest you plug in your device so that we can update at night," Cable noted.
The update comes with Intelligent reboot scheduling that will automatically determine the least disruptive opportunity outside of Active Hours, improvements to the feature update installation process and shorten the amount of time a device is offline during updates by up to 31 percent as compared to the previous update, and smaller downloads in which the October Update will be rolled out to the users in a new update package delivery design that is claimed to be 40 percent more efficient. As mentioned above, the October Update will be supported for 30 months from their release date.
What's new in the Windows 10 October 2018 Update?
Your Phone app
Microsoft has introduced the Your Phone app that will give users an instant access to their Android phone's photos and texts on the computer. Once you snap a picture on your Android phone, you can instantly see it on your PC. You can also drag and drop photos from the phone onto the Windows 10 powered device and copy, edit or ink that photo. Users can also text with the Your Phone app which is compatible with Android 7.0 and above. In case of iPhones, users can surf the web on the phone and then send the webpage instantly to the computer to pick up where they left off.
Timeline on phone
The Timeline feature is now available on the phone. Microsoft introduced the feature in the April Update and it makes it easier for users to find important documents without digging through emails or file folders.
Inking and 3D in PowerPoint and Word
The PowerPoint and Word apps are now getting new AI-powered inking features and 3D updates to transform raw data into perfectly formatted slides. "Our AI-powered design engine, PowerPoint Designer, is getting smarter. Designer can now recommend slide designs based on handwritten ink. Or, if typing is more your style, Designer can take a simple block of text, understand the context using AI, and then provide design ideas using icons and Smart Art. To provide even more design options, we're also adding 350 new icons to our library. We're adding built-in animations to 3D models in PowerPoint and Word," Microsoft said.
Microsoft To-Do
Microsoft's task app, To-Do now has the ability to update tasks using ink. With a digital pen and a touch enabled Windows device, users can now easily manage, prioritise and complete important things, the company says.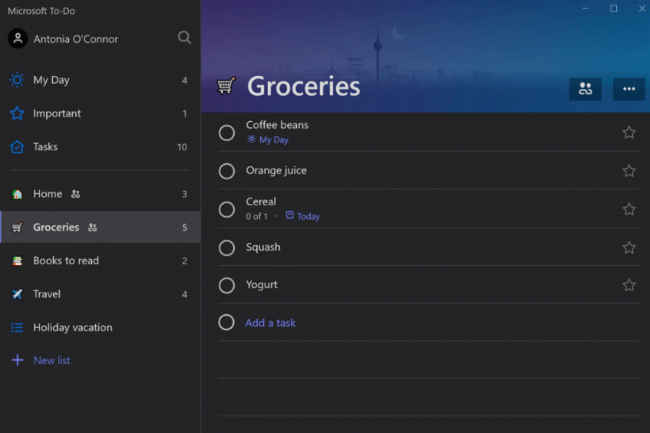 Outlook.com
Outlook.com gets two new updates. There is a new Tasks experience in Outlook.com that can help users manage tasks without leaving the inbox. Powered by To-Do, users can now create tasks by dragging and dropping an email to the task list. The new experience in the service will allow users to sort through promotional mails and legitimate business emails essentially cutting out the clutter.
SwiftKey intelligence debuts on Windows
Microsoft says that it has now incorporated AI into the SwiftKey keyboard in Windows to give users more accurate auto-corrections and predictions by learning their writing style. The Keyboard is already available for Android and iOS, and with the latest release, "SwiftKey will now power the typing experience on Windows when using the touch keyboard to write in English (United States), English (United Kingdom), French (France), German (Germany), Italian (Italy), Spanish (Spain), Portuguese (Brazil), or Russian."
Windows Mixed Reality Improvements
Microsoft has introduced Mixed Reality Flashlight with which users can now peer into the physical environment through Flashlight – without removing the headset! "With the October 2018 Update, you can open a portal into your real world at any time via the Start menu, a button shortcut or a voice command. This opens a low-latency pass-through camera feed connected to your controller. It's comfortable, intuitive and keeps you immersed," the company said in a blog post.
Game bar Improvements
Microsoft says that the game bar now wears a cleaner new look and layout. There is a new audio control panel that gives users the power to control individual audio channels without leaving the game.
Microsoft Edge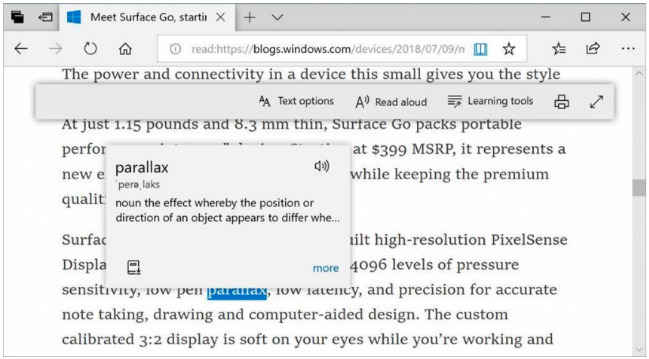 Although, Microsoft's web browser may be down the list when it comes to the favourite browser (4.36 percent market share in September 2018), this is not stopping the company from bringing improvements to it. Microsoft claims that Edge is the only browser with Microsoft Learning Tools built-in that help improve reading and focus. Edge also gets new themes, Grammar Tools and an offline dictionary that will pop up the definition of a word when a users highlights it while reading on the browser.