Last year, the 2.17.70 beta update unveiled very hidden reference to group calls that would let users add participants in a video or voice calls on WhatsApp. At that time, it was confirmed that only the group video feature will be rolled out, but the subsequent beta update for Android (2.18.189) has now attested that the Facebook-owned instant messaging platform will soon roll out both group video and voice chat feature to the general public.
WaBetaInfo, a popular website that tests new WhatsApp features before they are rolled out to the general public, said that the WhatsApp update will be rolled out to Android, iOS as well as Windows phone users globally!
At this year's F8 conference, Facebook confirmed that group video calling for the platform WhatsApp. Although not many details on the working of the feature were shared but from the demo showcased at the event, it was clear that at least four people can join in on the video call. While on a video or voice call, users just have to touch the "+" icon on the top and add a participant. Similarly, more people can be added.
Apart from the group voice and video calls, WaBetaInfo said, "WhatsApp will also roll out the Sticker feature, which is not available yet. WhatsApp started to work on the sticker album feature in the 2.18.120 update (and on Reaction since the 2.18.189 version), but WhatsApp is keeping it disabled for development reasons and it will be enabled in next releases."
With Sticker feature, WhatsApp users will get another icon added to Emoji and GIF options to select stickers. When the Stickers View is selected, there will be a new Love icon in the Sticker bar. When you touch the Love icon, it will expand to show a user all the available Reaction buttons. Each Reaction button implies a different category. For example, if you select "Sad" Sticker pack and touch the love icon, it will expand and show the number of sticker packs that you have installed on your phone. Selecting icon of the each pack will show you the number of stickers available in that pack.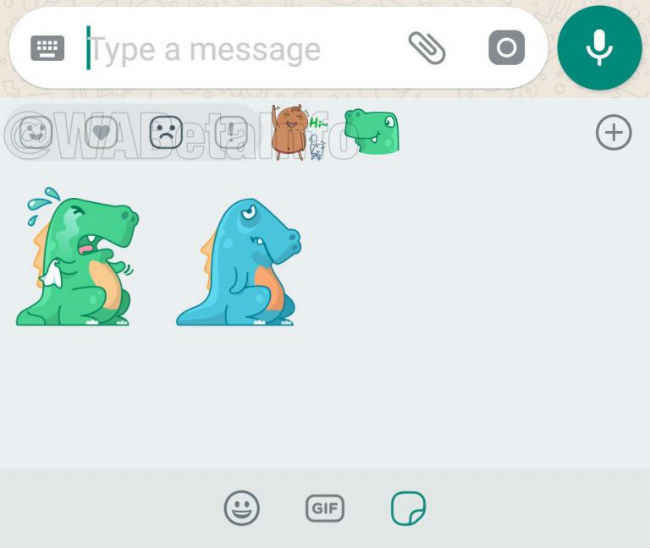 Who is a WhatsApp beta tester and how to become one?
Beta testers are the volunteers who get early access to the features that a company, WhatsApp in this case, wants to roll out to its customers. Beta testers test the features, submit a response and on the basis of those responses, the company make changes in the feature (or sometimes scrap the feature itself). If you want to be a beta tester for whatsApp for Android, you can do it by visiting Google Play Store. Open WhatsApp, search for "Become a beta tester" at the bottom of the page, click "Yes I'm in" and you are a Beta tester! WhatsApp takes some time to register a beta tester, so you should wait for the approval. If anytime you want to opt out, you can deregister by leaving the programme.
According to the company, there are now over 450 million daily users on WhatsApp who send over 65 billion messages every day and over 2 billion minutes of video and audio calls happen every day via the app. In India, there are 200 million monthly active users. WhatsApp is available in more than 50 different languages around the world and in 10 Indian languages.