Want to modernise your banking loan application?
Build an application that analyses credit risk with #IBMCloud Pak for Data on #RedHat #OpenShift
Click here to know more
Advertisements
For the second time in a week, WhatsApp has submitted its beta update through the Google Play Beta Program bringing the version 2.18.189 to 2.18.194. While in the last update, it was confirmed that the company will bring group video and voice calling, in this update, the company has re-introduced an improved Media Visibility feature that earlier brought in version 2.18.159 but later removed it for reasons unknown.
Earlier, users had an option to choose the visibility of shared media on the platform under one umbrella setting. The improved feature will now let users to manually enable or disable media visibility setting for specific chat(s) and group(s). So if you don't want those irritating "Good Morning" forwards to reflect in your gallery, you can choose to hide them with this feature -- subjected to feature's roll out for the general public.
The beta testers can install the update to review the feature. Open a group or normal chat and choose 'Contact Info' by touching the three dots on the right top corner of your screen. You can see a new option called 'Media Visibility' sandwiched between 'Custom notifications' and 'Encryption'. (Image 1)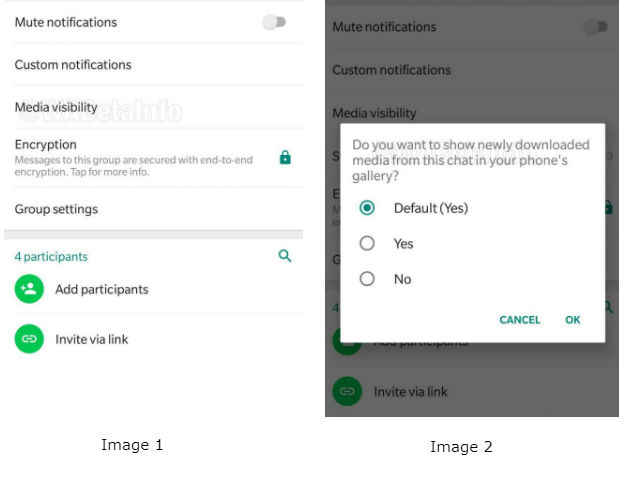 As soon as you select it, the following options will pop up and you can choose the option according to your preference (Image 2).
To recap, the beta update for Android (2.18.189) brought both group video and voice chat feature in WhatsApp that Facebook announced in its F8 Conference this year. WaBetaInfo, a popular website that tests new WhatsApp features before they are rolled out to the general public, said that the WhatsApp update will be rolled out to Android, iOS as well as Windows phone users globally!
Apart from the group voice and video calls, WaBetaInfo said, "WhatsApp will also roll out the Sticker feature, which is not available yet. WhatsApp started to work on the sticker album feature in the 2.18.120 update (and on Reaction since the 2.18.189 version), but WhatsApp is keeping it disabled for development reasons and it will be enabled in next releases."
Facebook had announced that there are now over 450 million daily users on WhatsApp who send over 65 billion messages every day and over 2 billion minutes of video and audio calls happen every day via the app. In India, there are 200 million monthly active users. WhatsApp is available in more than 50 different languages around the world and in 10 Indian languages.