Microsoft has announced the release of its Windows 10 OS from July 29th. The software maker has started prompting users with Windows 8, Windows 8.1 and Windows Phone 8.1 to reserve their free upgrade to Windows 10 OS.
Many users have started getting the "Get Windows 10″ prompt on their devices. Redditt user p4block reported the message for his Windows 8 computer and after that other users have also confirmed receiving the message for their Windows 7 and Windows 8 devices as well. Windows 10 brings back the Start Menu from Windows 7. Microsoft has preloaded Windows 10 OS with Voice assistance Cortana Integration, a new browser- Microsoft Edge and Windows Defender anti malware protection. Apart from this Windows 10 also brings new photos, music, maps, mail, calendar and more apps to users. Microsoft states in a press release," From the return of the Start Menu to the variety of innovative features, Microsoft created a more personal, fun and productive Windows experience".
Microsoft explains the "How this free upgrade works":
1. Users have to reserve their FREE upgrade to Windows 10 now. It will download once available, and users can cancel their reservation at any time.
2. Users will get a notification after Windows 10 is downloaded to their device. They can choose to install the upgrade right away or choose a time according to their convenience.
3. After the install, Windows 10 can use it right away.
The asterisk at the bottom explains that the free upgrade is a full version of Windows 10 and requires 3GB for the download. The prompt also stated that the free upgrade will be available for a limited time period for a year and after that users will have to pay for the Windows 10 OS update. Earlier today Window 10 pricing and release date were accidently leaked by online retailer Newegg.com. The listing reveals that the Windows 10 OEM copies will be released on August 31. The Professional version will be priced at $149 and the Home edition will cost $109. In 2012 Newegg.com had also started taking pre-orders of Windows 8 before its official launch. Microsoft is planning to launch the OS for all devices ranging from low cost smartphones to desktops. In a report the company had stated that it plans to make the Windows 10 OS available for a billion devices in the next two to three years.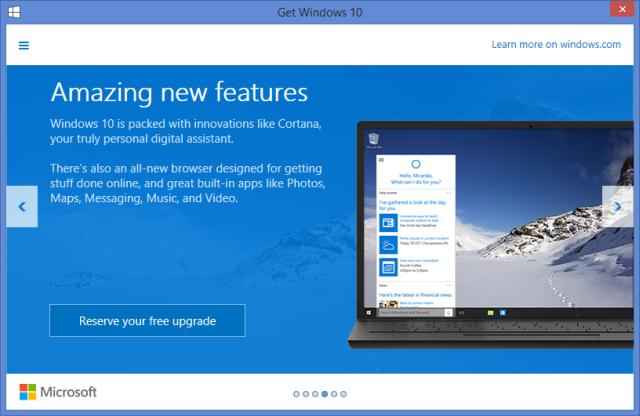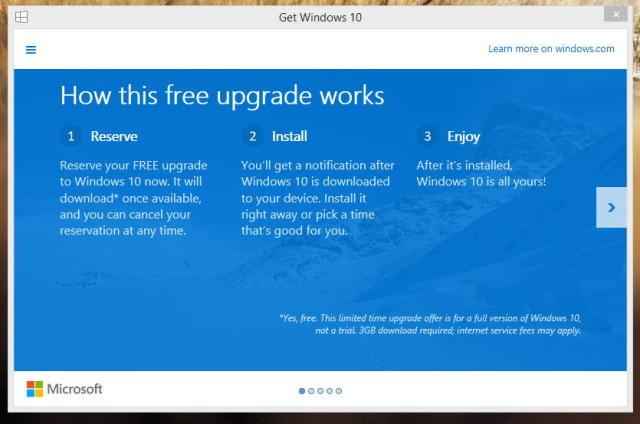 For more technology news, product reviews, sci-tech features and updates, keep reading Digit.in or head to our Google News page.