Microsoft has released Windows 10 Insider Preview Build 17035 for PC, just a few weeks after the rollout of Preview Build 17025 last month. The preview build is available to Windows Insiders in the Fast ring and for those who opted to Skip Ahead. Microsoft says the update will not be available to those using PCs with AMD processors due to a bug and is working to fix and remove the block.
In terms of new features, the update brings support for Near Share, a wireless file transfer service similar to that of Apple's AirDrop. Microsoft Near Share works on all PCs supporting Bluetooth and can be enabled from the quick action in the Action Center. The feature only works when both the devices run RS4 Build 17035 or higher. In order to share files between computers, Windows 10 RS4 Build 17035 users can look for the share icon in apps like Photos, File Explorer or Edge browser and see a list of devices at the top by clicking on Share. All nearby PCs in Bluetooth range will be shown in the list of devices. The recipient will be notified of the incoming file via action share where they can accept or decline. Once the recipient accepts, the file will transfer wirelessly.
The feature mimics AirDrop, which was introduced with the launch of Mac OS X Lion and iOS 7 and has been around for nearly six years now. Google, another competitor to both Apple and Microsoft, has also been found testing similar service with an upcoming app dubbed Files Go.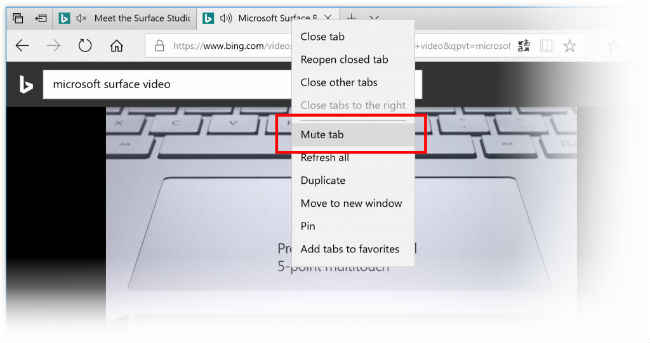 The new Build 17035 also brings improvements to Microsoft Edge browser, where users can now mute a tab playing audio. The audio icon displayed on a tab playing media can now be clicked to mute the tab and will unmute when clicked again. The option to mute or unmute a tab will also be available from the context menu via the right-click action. The Edge users can now directly save free EPUB books from the web while reading the same in Microsoft's browser. The software major has also added contextual options when users right-click books in the book pane. The options include View in Microsoft Store, Pin to Start and Refresh books while Remove from here has been renamed to Remove from device.
Microsoft is also revamping the Settings page on Windows 10 with options to limit the download bandwidth of Windows Update in the foreground. The Sound Settings are moving from the legacy Control Panel to main Settings page. Windows 10 users running Build 17035 can access common sound settings from Settings > System > Sound.
Microsoft is also updating the touch keyboard with an acrylic background while the standard touch keyboard layout comes to 190+ languages except for Korean, Japanese, Traditional Chinese and Simplified Chinese. Microsoft offers an option to choose between wide, one-handed and standard touch keyboard layouts. Other keyboard improvements include streamlined text insertion, improved re-recognition of words and ability to space out words by drawing a split gesture.
This update also brings inclusive design to the hardware keyboard with the ability to see text suggestions while typing on a hardware keyboard. Now users will get three text suggestions while typing and can switch between those suggestions by tapping the up arrow key and using the left/right arrow keys on the keyboard. The desired word can be entered by tapping spacebar or enter key. Further, Microsoft is integrating its AI chatbot Rinna with Japanese Input Method Editor for text suggestions. Rinna has more than 6 million users on Line, a popular messaging service in Japan. This particular preview build also brings other enhancements including updated Action Center that uses Fluent Design and improved discoverability and bug fixes.