Vostro 3501
Popular tech to stay connected anywhere. Save more on exciting Dell PCs.
Click here to know more
Advertisements
The Document Foundation (TDF) has released a new version of LibreOffice, the popular open source productivity suite. Officially the third major release, LibreOffice 3.5 will apparently show end users the improvements derived from the new development strategy adopted in September 2010, a combined effort of full time and volunteer hackers.
According to TDF, in the 16 months it took to develop the latest version of LibreOffice, with 80 developers working on it each month on average, producing over thirty thousand code commits. The latest version is being called "the best free office suite ever"
New features are spread across Writer, Impress/Draw, Calc, and Base applications. The biggest change for the whole suite is the online update checker, which will notify users when a new version of the suite is available. TDF recommends that power users should install LibreOffice 3.5, and conservative users stay on the LibreOffice 3.4 branch. Corporate users are strongly advised to deploy LibreOffice with the backing of professional support. LibreOffice 3.5 is available at www.libreoffice.org/download.
Check out the new features and changes in LibreOffice 3.5 in the infographic, and list below:
Writer
- a new built-in Grammar checker for English and several other languages
- improved typographical features, for professional looking documents
- an interactive word count window, which updates in real time
- a new header, footer and page break user interface
Impress / Draw
- an improved importer of custom shapes and Smart Art from PPT/PPTX
- a feature for embedding multimedia/colour palettes into ODF documents
- a new display switch for the presenter's console
- new line ends for improved diagrams
- Microsoft Visio import filter
Calc
- support for up to 10,000 sheets
- a new multi-line input area
- new Calc functions conforming to the ODF OpenFormula specifications
- better performances when importing files from other office suites
- multiple selections in autofilter
- unlimited number of rules for conditional formatting
Base
- a new integrated PostgreSQL native driver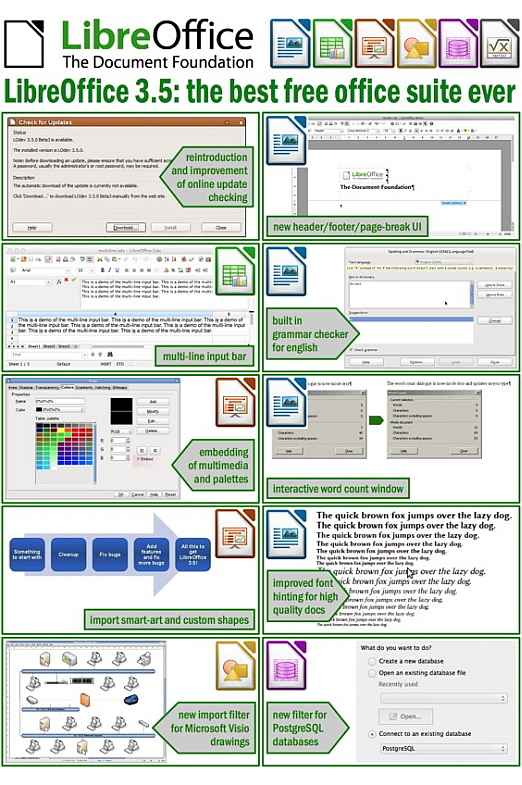 Caolán McNamara, a senior RedHat developer who is one of the founders and directors of TDF, released a statement accompanying the launch:
"We inherited a 15 years old code base, where features were not implemented and bugs were not solved in order to avoid creating problems, and this – with time – was the origin of a large technical debt. We had two options: a conservative strategy, which would immediately please all users, leaving the code basically unchanged, and our more aggressive feature development and code renovation path, which has created some stability problems in the short term but is rapidly leading to a completely new and substantially improved free office suite: LibreOffice 3.5, the best free office suite ever."
Michael Meeks, a SUSE Distinguished Engineer, who is also a founder and director at TDF, added:
"In sixteen months, we have achieved incredible results with nearly three hundred entirely new developers to the project, attracted by the copyleft license, the lack of copyright assignment and a welcoming environment. In addition to the visible features, they've translated tens of thousands of German comments, removed thousands of unused or obsolete methods – sometimes whole libraries – and grown a suite of automated tests. Although we still have a long way to go, users – who have sometimes complained for the stability of the software, as they were not aware of the technical debt we were fighting with – can now benefit from a substantially cleaner, leaner and more feature rich LibreOffice 3.5."