Google testing Android 4.4.3 Kit Kat update, will reportedly address Nexus 5 camera bug.
A new tweet from developer LlabTooFeR states that Android 4.4.3 update is in the works. The developer identified version KTU72B as the upcoming software update. However, there are no details regarding when Google is actually releasing it. In addition to the tweet, a Nexus 5 running the update has been spotted in a log file.

"Android 4.4.3 is under testing. Build number is KTU72B," the developer wrote. "Probably it will fix known camera bug."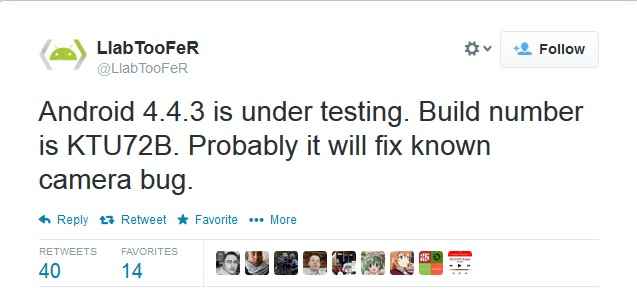 It's not quite clear whether the next update will bring any new features, apart from fixing the camera bug and battery problems that the Nexus 5 is facing. The cause of the camera bug is said to be the background apps that constantly engage the camera app service, like Skype, which keeps accessing the camera app through its background service, and eventually leading to an overall system lag and reduced battery-life. Experts have asked users to try re-booting the device and uninstalling third-party apps to overcome the camera bug issues. Google had also released the Android 4.4.1 update in December to fix the camera issues, but that didn't work.
No details have been given whether the latest update will be available for other devices apart from the Nexus 5. The last KitKat software version KOT49H (Android 4.4.2) has been made available for only a few devices till now including Nexus tablets and smartphones.
According to rumors, Google will unveil Android 4.5 this summer, along with a new range of Nexus devices. The reports also suggests that HTC has won a bid to manufacture the next Nexus tablet which may be scheduled for release in the third quarter of 2014, HTC hasn't confirmed the rumors yet and declined to make any comments on the report.
Source: @LLABTOOFER