Highlights:
The latest version of Google Drive has a hidden dark mode
It works with the system-wide dark mode setting in Android Q beta
If you're one of the beta users of Android Q and love dark mode in all your apps, you have a new reason to feel thrilled. Through an APK teardown done by XDA Developers, we learn that the latest version of Google Drive for Android (version 2.19.112) follows the system-wide dark mode policy set on the smartphone, which means that when you open the app, you'll see a dark background with white text for the labels. The discovery was brought to the public by recognised XDA Developers member Kieron Quinn.
From the screenshots reported, we can tell that Google Drive has no explicit option to toggle dark mode within the app and that it simply follows the universal setting from Android Q's unreleased system-wide dark mode option. We expect Google Drive to join other Google apps with an inbuilt dark mode feature like Chrome, Phone, Contacts, Messages, News, Play Games, and YouTube in the future. It's possible that all of these apps will get an app-specific dark mode toggle when Android Q rolls out.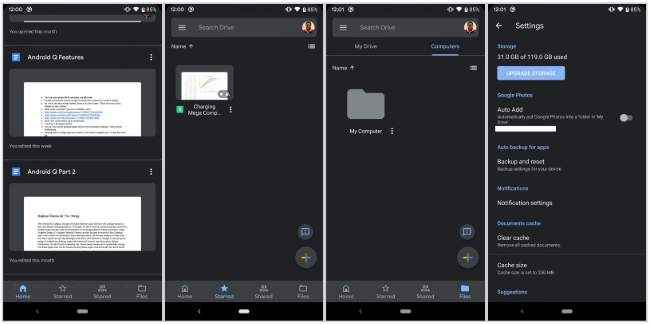 Current users of the Android Q beta can enable dark mode in two ways: either by turning on Battery Saver in Settings or by enabling it manually with ADB (Android Debug Bridge). The second method will require users to connect their Pixel device to a computer, install ADB, and send the following command through command prompt: "adb shell settings put secure ui_night_mode 2". A reboot after that should enable dark mode on the device system-wide.
Though Google hasn't promised a system-wide dark mode option in Android Q (even in the beta version that launched last week), the option has been spotted in numerous Android system teardowns before. The fact that it can be enabled in the beta adds to our confidence that Google will announce it in good time. In the coming weeks and months, we expect Android Q beta to roll out to more devices apart from Google's Pixel series of smartphones.
Inline image courtesy: XDA Developers
Related Read: Android Q Beta 1 released for all Pixel smartphones: An indepth look at new features