Apple announced refreshed the Mac experience this year at WWDC, named macOS Big Sur. The update focuses big on privacy, minimalism and productivity.
Alongside a fresh take on iOS and iPadOS, Apple also completely refreshed the Mac experience this year at WWDC. Named macOS Big Sur, the operating system will complement Apple's historic transition to ARM-based Apple silicon for Macs that's slated to launch by the end of this year.
MacOS Big Sur introduces a complete redesign that's both new and instantly familiar, according to Apple. The update focuses big on privacy, minimalism and productivity. Here's a look at all the new features coming to Macs near you.
What's new in macOS Big Sur?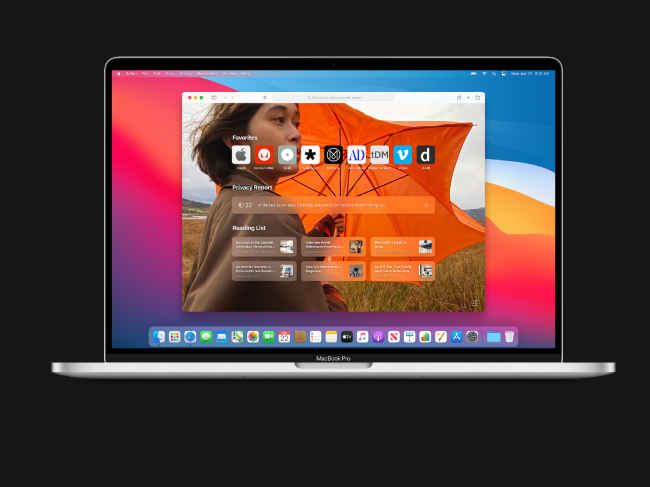 Biggest design upgrade to MacOS since Mac OS X
The new macOS Big Sur offers a spacious new design that helps navigating the UI much easier. Apple has worked on refining the colour palette, window corners and materials. The dock icons are now more consistent with the rest of the Apple ecosystem, while the buttons and controls appear when needed and disappear when not.
There's also a new customisable menu-bar and a new Control Center which gives quick access to controls on the desktop. Notifications are more interactive and widgets now come in different sizes. Core apps on macOS also received a facelift with new features.
Faster, more privacy-focused Safari
Apple claimed Safari on macOS Big Sur is 50 per cent faster than Chrome in loading webpages. Apple has redesigned tabs to show more tabs on screen, displaying favicons to tabs to let you identify tabs quicker, and gives users a preview of the page by hovering the cursor over the tab.
The home page on Safari is also more contextual and personalised. You can have you iCloud tabs synced right on the homepage, and get your reading list right below. Apply custom wallpapers and translate webpages right from the address bar.
Safari Extensions are also upgraded to now work only when needed. Users can chose when and which websites can work with a Safari Extensions,
More transparent data collection
macOS Big Sur offers more transparency and control over what data is shared by mac Apps by detailing the privacy practices of apps before you download them. This includes the types of data the app might collect, like usage, contact information or location, and what data is shared with third parties. You can also see and block tracking on Safari.
Big updates to native apps
Native apps like Messages and Apple Maps also got a big facelift and are now more in sync with their iOS and iPadOS counterparts. On Messages, you can pin conversations on top for faster access, create and customise Memojis, have threaded replies on group messages, and set a photo or memoji as the group icon.
As for Apple Maps, the new update brings all that was announced for Apple Maps on iOS 14 including bike routes, 360-degree view of a destination, detailed indoor maps of major airports and shopping malls and more.
macOS Big Sur availability
The final release of macOS will be pushed to Mac PCs and MacBooks in fall 2020 as a free software update, and the developer beta of macOS Big Sur will be available starting today on developer.apple.com. The public beta of the operating system will be available in June alongside public betas for iOS 14, iPadOS 14 and for the first time, watchOS 7.