Google has officially bestowed the name Android 9 Pie to the latest version of its operating system. The announcement was made by Google on Monday, where Sameer Samat VP of Product Management, Android & Google Play, announced the name for Android P through a official blogpost. "The latest release of Android is here! And it comes with a heaping helping of artificial intelligence baked in to make your phone smarter, simpler and more tailored to you. Today we're officially introducing Android 9 Pie," Samat said in the blogspost. Google has repeated last year's practice of announcing the final build for its OS months before launching its next generation of Pixel flagship smartphones.
Android P availability
Starting today, those with any of the previous Pixel devices - Pixel, Pixel XL, Pixel 2 and Pixel 2 XL, will be able to update their phones to Android Pie, which is the final build of the OS. Those with Pixel devices should lookout for an over-the air Android Pie update on their phones. This can be done by heading over to the Settings of your Pixel device and checking for software updates in the 'System Update' setting. The Android Pie 9.0 update is about 1GB in size. Users can also get the factory images for their Pixel device here, or OTA images here.
For now, only Pixel devices are eligible for the Android Pie 9.0 update and other smartphones that were onboard the Android P beta this time will be receiving the final build of the OS in the fall; no exact date announced. If you recall, Google, for the first time, had made the Android P beta available to select smartphones from Sony Mobile, Xiaomi, HMD Global, Oppo, Vivo, OnePlus and Essential. So devices like the OnePlus 6, Oppo R15 Pro, Nokia 7 Plus, Sony Xperia XZ2, Xiaomi Mi Mix 2S and Vivo X21 will be amongst the first phones to get Android Pie in the fall. Apparently, the Essential phone, which was also on the Android P beta is already receiving Android Pie. "We're proud to bring Android 9 Pie to Essential Phone the same day it's released! Check your phone now for the update," Essential tweeted out from its official twitter handle.
"We're also working with a number of other partners to launch or upgrade devices to Android 9 this year," Google announced in its blogpost. Those with Android One smartphones - like the Xiaomi Mi A1, Mi A2, all the Nokia phones, and more - should also expect the Android Pie update in the fall.
Android Pie features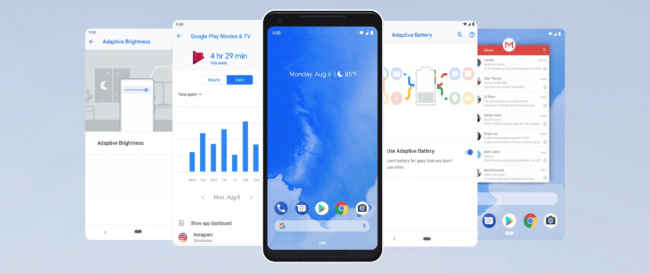 Now that you know the official name for Android P, let's tell you more about what to expect from the new OS. We heard from Google at I/O 2018 that Android P is centered around AI. Google is one of the foremost entities in the AI research space and Android Pie comes with machine learning processes baked into its very core. This will be visible in multiple forms, including a new 'Adaptive Battery' feature which was created in collaboration with the Alphabet-owned AI subsidiary DeepMind. Let's take a deeper look into what Android Pie promises -
Adaptive Battery
This feature on Android Pie is designed to predict app usage patterns and accordingly optimise the battery life of your Android device. With the Adaptive Battery feature, battery life will only be spent on apps and services the user is most likely to use. Google says that they have seen a 30 percent reduction in CPU app wakeups during testing, owing to this new feature.
Adaptive Brightness
If machine learning can adapt battery life, it can also adapt brightness. The 'Adaptive Brightness' feature on Android Pie reduces the number of times a user has to manually adjust display brightness by implementing AI to understand the user's preferences.
App Actions
In the spirit of predicting usage patterns, Google has also introduced a feature called 'App Actions' to Android Pie. This will pre-empt what a user does with an app before he/she actually does it. For instance, if you connect headphones to the phone, Predictive Actions will automatically start playing the last song you were listening to on your phone.
Slices
Android P will also bring a new feature called 'Slices'. However, this feature will only rollout to Android Pie in the fall. We are guessing this will happen when Google makes Android Pie more openly available to the devices that were enrolled in its Beta programme. "Later this fall, we'll also roll out Slices (pie...slices...get it?!) which shows relevant information from your favorite apps when you need it," Google wrote in its blogpost.
The Slices feature will display slices of an app within Google Search. For instance, if you Google search for Uber, you will get a Slice of the application from your phone within the search and will also be able to book cabs directly from the Slice. Another example of how Slices would work on Android Pie is when you search for a particular city, say for instance Goa, you will see a Slice from Google Photos if you previously visited the city and clicked some pictures there.
Gesture Navigation and Notch support
With Android Pie, Google is officially embracing the notch, which is also supposed to show up on the Pixel 3 series of smartphones that the company plans to launch later this year.
Android Pie will allow for new ways to navigate phones that focus on screen real estate. There will now be a single clean home button that will allow users to navigate the new OS. But what's great is that Android users, apart from those who use Pixel phones, will be able to choose their preferred navigation method and enable or disable Android Pie's gesture navigation. On Pixel smartphones, Google will strictly only implement gesture navigation. Some things remain the same and users will be able to tap to go back to home, and hold down the home button to bring up the Google Assistant.
What's changed is that swiping up on the home button will now bring up the multitasking menu, with five predictive apps displayed at the bottom of the screen. Swiping up twice will bring up the entire app list and the same will work on any screen. A quick scrub at the bottom of the display will let users scroll through apps. Volume controls have also been re-imagined to help users separate ringer volume from media volume. A new, vertical volume control will be located on the display next to the hardware buttons and will help distinguish the phone's sound from that of the media being played on it. In addition, a new rotation button will now appear on the navbar to change screen orientation in a much easier fashion.
Digital Wellbeing
Perhaps a trend Google kicked off in the tech industry was the strong focus on Digital Wellbeing, first introduced by Google during its Android P announcements at I/O 2018. Google, like many other tech companies, is realising the need to disconnect. At I/O, CEO Sundar Pichai said that the company knows that people feel tethered to their devices because of the fear of missing out. To achieve the same, Google has introducing a number of wellbeing features to Android P. The OS will come with a new 'Android Dashboard' which will show users how much time they spend on apps through visual graphs and pie charts. Android P will also lets users set time limits on apps and will nudge them to do something else when that time is up.
There's also a new 'Do Not Disturb (DND) Mode' on Android P which will silence phone calls and texts, along with visual disturbances that pop up on the screen. Something Apple later copied for Screen Time on iOS 12.
Turning the phone upside down will automatically activate this DND mode, another implementation of gesture support on Android Pie. In emergency situations, pre-determined contacts will be able to reach users that have activated the DND mode.
Android Pie will also get a new 'Wind Down Mode' which will let users tell the Google Assistant their bedtime. The Assistant will then automatically activate the DND mode and the screen will turn grey through the night. Worry not, all colours will return back to normal in the morning.
Bad news is that Digital Wellbeing will only rollout to Android Pie in the fall. Google says that Digital Wellbeing will first officially launch on Pixel phones this fall, with Android One and other devices coming later this year. But these features are available in beta now for Pixel phones running Android 9. Here's what you need to do to try them out:
Make sure you're running Android 9 Pie on your device.

Sign up for the beta with the email address you use with Google Play.

Accept your invitation to become a beta tester by clicking the link in your welcome email.
Once you've accepted your invitation, Digital Wellbeing will appear in your phone's Settings app. It may take up to 24 hours for Digital Wellbeing to appear on your device.
Android 9 also brings important privacy improvements, such as TLS (Transport Layer Security) by default to add an additional layer of security to Android Pie. Android considers all networks potentially hostile and Google feels that encrypting traffic should be used at all times, for all connections. Mobile devices are especially at risk because they regularly connect to many different networks, such as the Wi-Fi at a coffee shop. All traffic should be encrypted, regardless of content, as any unencrypted connections can be used to inject content, increase attack surface for potentially vulnerable client code, or track the user. This will help keep web communications protected and private.
You can read more about the new Android Pie features here. Our Pixel devices are already set to update, so stay tuned for an in-depth Android Pie performance test.
Image Courtesy: Google