#IBMCodePatterns, a developer's best friend.
#IBMCodePatterns provide complete solutions to problems that developers face every day. They leverage multiple technologies, products, or services to solve issues across multiple industries.
Click here to know more
Advertisements
Google launched Android Oreo in August last year, and since then, over 12 percent phones have the OS installed on them, even as Nougat became the most installed Android OS version, revealed Google's Android distribution numbers for the month. Google collected this data in the week that ended on July 23. Any versions with less than 0.1 percent distribution, such as Android 3.0 Honeycomb and Android 2.2 Froyo, are not included. The company takes the help of the Google Play Console which provides detailed statistics about users' devices.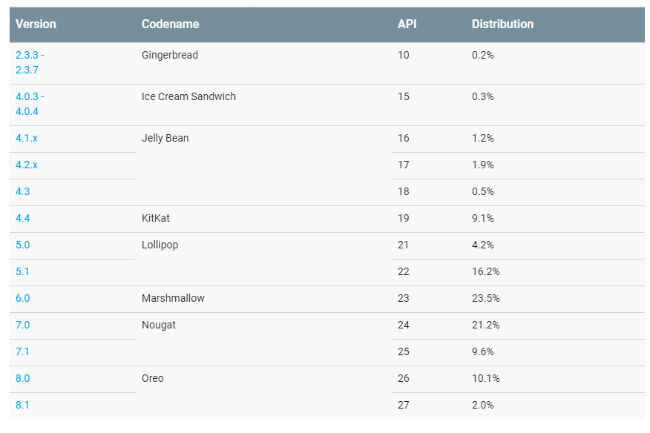 "This page provides information about the relative number of devices that share a certain characteristic, such as Android version or screen size. This information may help you prioritize efforts for supporting different devices by revealing which devices are active in the Android and Google Play ecosystem," Google said on its Distribution Dashboard Page. According to Google, Nougat is the top installed Android OS at 30.8 percent (Nougat 7.0 - 21.2 percent; Nougat 7.1 - 9.6 percent), followed by Marshmallow at 23.5 percent and Lollipop at 20.4 percent (Lollipop 5.0 - 4.2 percent; Lollipop 5.1- 16.2 percent). Android Oreo takes the fourth spot with 12.1 percent.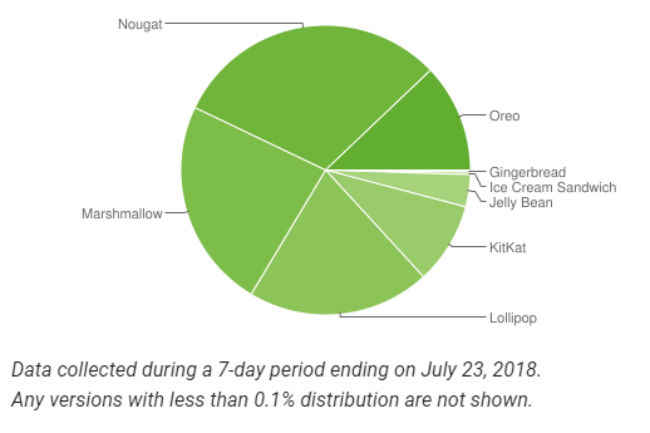 The company also provided data about the relative number of devices that have a particular screen configuration, defined by a combination of screen size and density. Since there are several phones with different screen sizes that run on Android, Google has also divided the range of actual screen sizes and densities into several buckets.
While Android Oreo has 12.1 percent adoption till July, its previous version Nougat had 11.5 percent installs after 10 months. Generally it takes a year for an Android OS to become the most used release, and Android Oreo should follow suit in its own sweet time. Earlier this year, Google announced several changes that Android P will bring when it launches later this year. The company has already released the beta version of the latest OS and you can read our in-depth hands on here.