Google has announced the first Android O Developer Preview ahead of the official launch later this year. For the second year in a row, Google is making the developer preview of its upcoming mobile operating system available for developers to start their work early. The move last year was aimed to end Android fragmentation problems and the search giant is continuing its focus with the Android O developer preview.
The next version of Android will bring support for background app limits, improved notifications, picture-in-picture mode, adaptive icons to name a few. With Android O, Google's focus seems to be around background app management - an area where Apple's iOS excels. "We've put additional automatic limits on what apps can do in the background, in three main areas: implicit broadcasts, background services, and location updates," Dave Burke, Android VP of engineering wrote in a blog post. Google says the new background limits will help developers create apps with minimal impact on device performance and battery life.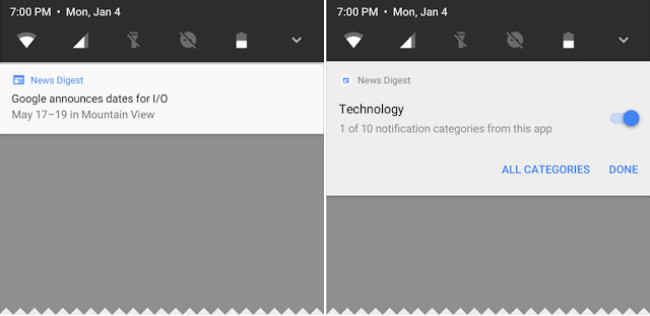 Google is also introducing notification channels aimed to offer more user control over notifications. With 'Notification Channels', developers can enable app-defined categories for notification content allowing users to block or change behaviour of individual channel rather than managing all of the app's behaviour. Google says it is also bringing 'visual tweaks' to notifications for improved visibility of an incoming message.
Other new features include picture-in-picture mode allowing users to watch YouTube video in a detached window while browsing through emails. Google is also introducing new windowing features including new app overlay window and multi-display support. Other Android O features include adaptive icons, XML font support, improved keyboard navigation and wide-gamut colour support for apps.
Google is not bringing any significant design change with Android O and we are still looking at material design first introduced with Android Lollipop. Google says this release is intended for developers only and those interested can flash the update on Nexus 5X, Nexus 6P, Nexus Player, Pixel, Pixel XL and Pixel C devices.