Android Nougat's market share has surpassed that of KitKat for the first time. The version of Google's mobile operating system is now being used by 15.8 percent active users, up from 13.5 percent reported last month. The market share is based on data collected during a 7-day period ending on September 11, 2017.
The updated numbers on Google's Android Dashboard reveal that Nougat gained 2.3 percent market share during the past month alone. Android 7.0 Nougat is being used by 14.2 percent active users while 7.1 Nougat is powering 1.2 percent active devices. Android Nougat hit double digit market share for the first time in the month of July.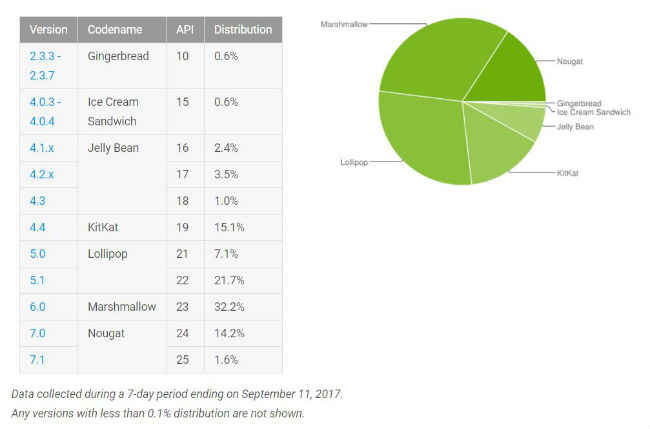 When it comes to older versions, Android 6.0 Marshmallow announced two years ago still has the highest market share of 32.2 percent. Android Lollipop has a market share of 28.8 percent followed by KitKat with a share of 15.1 percent. Android Jelly Bean now has a 6.9 percent market share while Gingerbread and Ice Cream Sandwich each have 0.6 percent share.
These numbers come just days after the launch of Android 8.0 Oreo, the next major release from Google. While there is no word on the market share of Oreo, it started rolling out as an OTA update to select Nexus and Pixel devices last month. Android 8.0 brings support for Project Treble which aims to fix the fragmentation issue causing users to stay put on a version of Android for longer than usual.
In the coming months, Android Nougat's market share could grow further with OEMs like Xiaomi releasing updates and major OEM partners joining Google's Android One initiative. It will be worth watching whether Google manages to put Oreo on more smartphones with this new initiative and thus curb the fragmentation issue altogether.