Android Nougat's market share has reached 13.5 percent after hitting double digit mark for the first time last month. The operating system has been gaining nearly 2 percent market share every month for the past few months. The updated data on Android Dashboard reveals Android 7.0 Nougat is being used by 12.3 percent active users while 1.2 percent users are running the latest Android 7.1 version.
Back in July, Google had reported that Android Nougat has hit double digit market share with 11.5 percent active devices running the version. Android 7.0 Nougat is the operating system found on flagship smartphones like Samsung Galaxy S8 and LG G6 while Android 7.1.1 Nougat is available mostly on Google's Pixel series and some Nokia devices. The updated numbers are based on data collected during a 7-day period ending on August 8, 2017.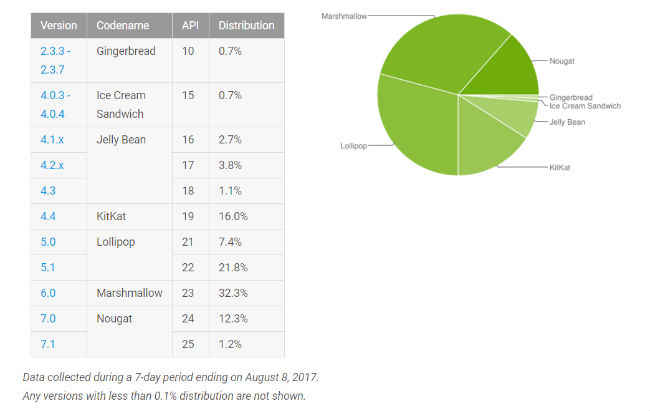 Android 6.0 Marshmallow announced nearly two years ago continues to lead with a market share of 32.3 percent followed by Android 5.0 Lollipop with a share of 29.2 percent. Android 4.4 KitKat is powering 16 percent devices while Android Jelly Bean is used by around 7.6 percent. Android Ice Cream Sandwich and Gingerbread are stuck at 0.7 percent market share.
Google announced the public beta of the next Android iteration at company's I/O developer conference in May. The search giant is expected to start rolling out Android O officially starting next month and might arrive before another update on the distribution of Android versions. Google's mobile operating system may have been plagued by fragmentation issue but the past few months have been good for the progress of Nougat distribution. With Xiaomi starting Nougat-based MIUI 9 rollout, the operating system could gain good momentum in the next few months.