Android Nougat is currently running on 9.5 percent active devices, while Marshmallow has becomes the most used version of Google's mobile operating system
Android Nougat is now powering 9.5 percent of two billion plus active Android smartphones globally. According to the latest data available on Android Dashboard, Android Nougat v7.0 is currently running on 8.9 percent devices, while Android Nougat v7.1 has a base of around 0.6 percent devices. The newly updated numbers are based on data collected during a 7-day period ending on June 5, 2017.
Android Nougat has been steadily gaining market share for the past few months and was running on 7.1 percent of active devices during the period ending May 2, 2017. This means that Google's latest mobile operating system has gained nearly 2.4 percent market share in the past month alone. The operating system had gained nearly 2 percent market share in the two months before that as well. The reason behind this growth is most likely the launch of newer devices and OEMs rolling out the Nougat update for older models.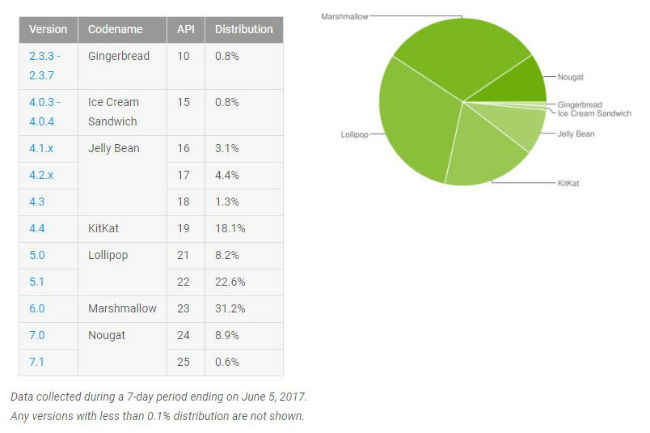 The data also reveals that Android Marshmallow has taken the lead from Lolliop. Marshmallow is currently running on 31.2 percent active devices, while 30.8 percent users are still using Lollipop. Android 4.4 KitKat has dropped to 18.1 percent market share from 18.8 percent reported last month, while Jelly Bean is being used by around 8.8 percent of users. Android Ice Cream Sandwich and Gingerbread are together running on 0.8 percent smartphones. This data further highlights Android's problem with fragmentation ahead of company's plans to introduce Android O later this year.
At WWDC 2017, Apple CEO Tim Cook highlighted how company's latest iOS release commands an install base of 86 percent. Cook also mocked Android's user base saying that "other platforms suffer from horrible fragmentation scenario." Google has been taking steps to fix the Android fragmentation issue for the past few years and with Android O, it is reportedly separating the original vendor implementation and has updated the Android OS framework. Only time will tell whether Google will be successful putting the latest version of its OS on more devices.