Android 8.0 Oreo was released in August and saw a marginal gain in its market share to reach 0.3 percent of all active devices. Android Nougat has also gained market share, but Marshmallow remains the most popular version.
Android Oreo reached 0.3 percent in market distribution, a marginal improvement over 0.2 percent recorded last month. The numbers show that the latest iteration of Android is growing slower than its predecessors and the market share recorded primarily corresponds to Nexus and Pixel devices currently in use.
Google released Android 8.0 Oreo for Pixel and Nexus devices in August and it appeared in Android distribution numbers for the first time last month. The new distribution numbers are based on data collected during a 7-day period ending on November 9, 2017, These numbers also highlight the fact that only a small number of devices have received the update to Oreo. Android Nougat has gained nearly 3 percent market share in the past month alone to reach a share of 20.6 percent.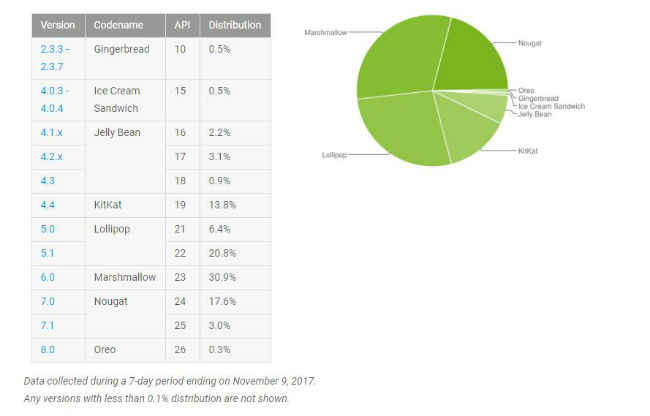 Android 7.0 Nougat is used by 17.6 percent active users (a gain of 1.8 percent), while 7.1 Nougat is running on 3 percent active devices, a gain of 1 percent over last month. Meanwhile, Android Marshmallow continues to remain the most used version of Android with a market share of 30.9 percent. It has seen a decline in terms of market share suggesting most users have upgraded to Android Nougat. Android 5.0 Lollipop is now powering 6.4 percent active devices while Android 5.1 Lollipop is used by 20.8 percent active users. Among other versions, Android 4.4 KitKat has a market share of 13.8 percent, while Android Jelly Bean versions have a combined share of 6.2 percent. Android Gingerbread and Ice Cream Sandwich are still lingering around with a market share of 0.5 percent each.
Android 8.0 Oreo was expected to fix the fragmentation issue resulting in a delayed rollout of the latest version of Google's mobile operating system to most devices. The operating system enables Project Treble, which allows Google's OEM partners to add their own layer of customisation on top of Android and push out the update sooner. However, the distribution numbers clearly suggest that Oreo is yet to be available on devies other than the Nexus or Pixel smartphones. In fact, the Sony Xperia XZ1 is currently the only other phone to offer Android Oreo in India.
Tags:
android
google
android 8.0 oreo
android oreo
android oreo market share
android nougat
android distribution numbers
android nougat market share
google
android nougat
android
android 8.0 oreo
mobiles
software