Users can start playing games twice as fast on Android 12 compared to Android 11. Android 12 also features a new gaming dashboard with screen capture, record feature.
Android 12 will enable users to start playing a game while it downloads on their smartphones. The new feature was announced at Google for Games Developer Summit 2021. The new feature is especially useful for games with a large download size, such as those between 2GB to 5GB. Users can now start playing such large titles as they download in the background.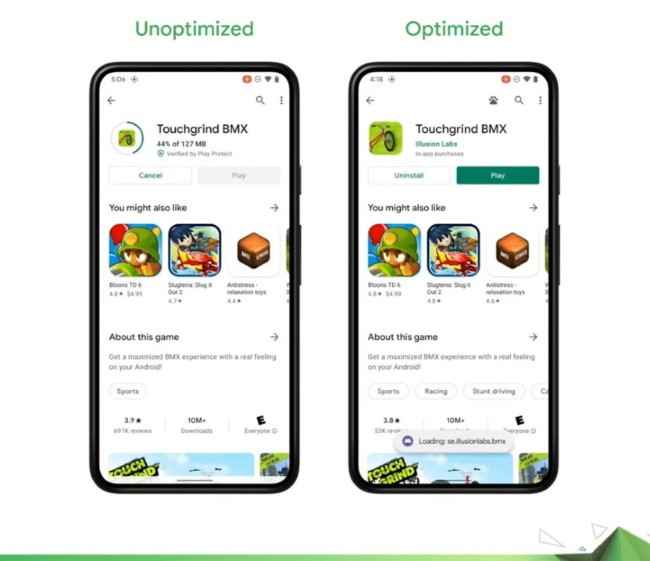 Android 12 brings new features for games
Google's Android 12 will use a feature called "Play Asset Delivery," which allows game developers with a game larger than 150MB to publish a single artifact with all the necessary resources to start it. In other words, it breaks the game into multiple playable chunks, which users can easily download and start playing, while the rest of the game installs in the background.
In their presentation, Google demonstrated that a 127MB game became available to play twice as fast on Android 12 as compared to 11. It should be noted that game consoles like the PlayStation and Xbox already have such a feature in which you can start playing a game once a certain amount of it downloads in your storage.
Additionally, Android 12 will also launch with a brand new gaming-focused dashboard featuring quick access to features like screenshots, recording, etc. The Android 12 gaming dashboard will launch on "select" devices later this year. OEMs like ASUS, OnePlus and others that make performance-oriented smartphones already offer some form of a gaming dashboard. With Android 12 though, this feature will become universal.
Gaming on Android is picking up "steam" as several PC-focused developers continue to launch versions of their games on smartphones. Following the success of miHoYo developed, Genshin Impact, Sandbox Interactive also launched Albion Online on Android smartphones. Games from other notable titles like League of Legends, Diablo, and Apex Legends are also set to make their debut on smartphones.