Over the years, Google Search Engine Results Page (SERP) has been getting frequent updates with new features and UI changes to the point where the Google Search UI feels cluttered with ads and unsought information. Although, we can't bring back the good old Google UI, here's how to fix it.
How to improve Google Search UI
Some of these steps involving installing an adblocker. Now, if not using one, you may be already familiar about the existence of applications or addons or extensions to block ads on web browsers. However, there are still plenty of people who don't know about, let alone use an adblocker. So, for those folks, we hope this guide will be more helpful.
1. Block all ads on Google SERP and other websites
You can install uBlock Origin for removing those annoying ads from Google Search Engine Results Page. It is available for leading browsers like Chrome, Edge, Firefox, etc. Once installed, ensure it's enabled and running.
2. Remove favicons from Google search results page

Favicons are the brand logos appearing as icons over website names on Google SERP. You can disable favicons and save some space. Moreover, the page will look more minimal.
To removing favicons, you have to use uBlock/ uBlock Origin again. If it's installed on your browser, go to the uBlock settings > My Filters section and insert the following string of codes:
www.google.com##.g div.yuRUbf a > h3 + div > .H9lube, .g div.yuRUbf a > h3 + div > div > span, .g div.yuRUbf a + div > div > span, .g div.yuRUbf a + div > div > div > span
www.google.com##.g div.yuRUbf a > h3, .g div.yuRUbf a + div > div:style(margin-top: 0px !important;)
Click on Apply Changes once you have pasted the above filters.
Refresh the Google search result pages already opened. You should not see favicons on the currently open and new Google search result pages.
3. Disable local language results from Knowledge Graph on the right side of Google SERP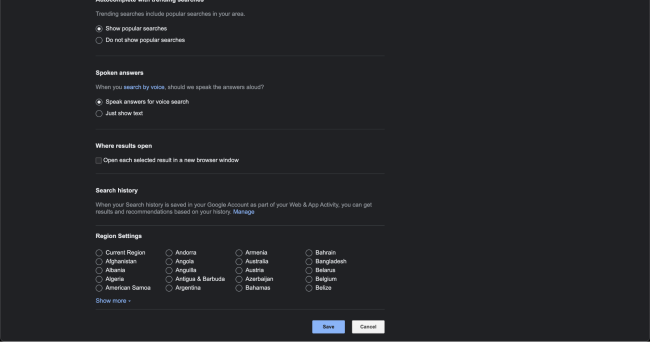 Of late, Google has been pushing local languages (like Hindi) at various places on your Search Engine Results Page. In case, you don't want to see them, say within the Knowledge Graph box on the right side of SERP, then all you need to do is change your location to United States. To do this, you have go to click on the cog button on the top right corner of the Google SERP. Tap on See More Settings. You will find the option to change your location preference for Google SERP at the bottom of this page.
Changing the location can however show up wrong website suggestions like showing Amazon.com instead of Amazon.in in India. So, be careful before changing this setting.
There may be more ways to improve the Google Search experience. We will be updating the article with more tips as we come across them. Stay tuned.