A week after making it available on its home soil in South Korea and the US, Samsung has now released the Galaxy Note 9's One UI beta based on Android Pie 9.0 in India and Germany, Sammobile has reported. If you want to be among the testers before the stable version is rolled out in January, you can get the beta through the Samsung+ app on your Note 9 device after registering for the programme through the Samsung Members app.
Basically, One UI is Samsung's rebranding of Samsung Experience 10 skin, and is based on Android 9 Pie. As reported earlier, the new update brings a string of changes to the device's interface and adds loads of new features. Samsung is looking to make single handed operations on its devices a lot easier with the UI. Testers should see common operations, which were previously on the top of the display, at the bottom now. Critical actions like expanding notifications bar can be done with a single swipe from the middle of the screen.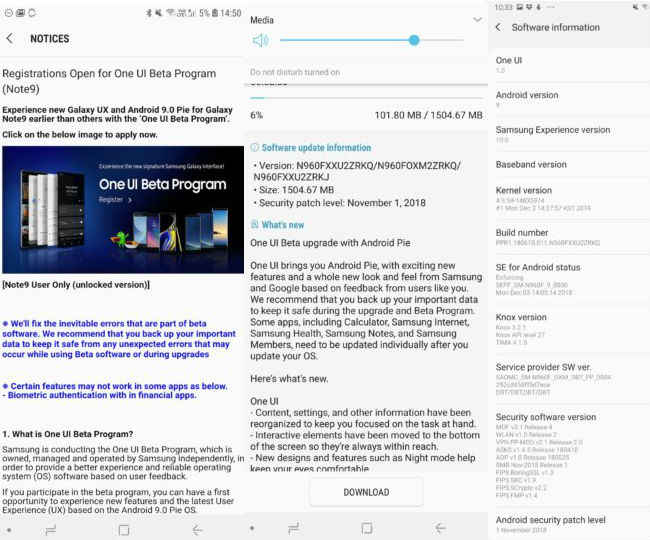 The beta build comes with firmware version N960FXXU2ZRKQ and features the November 2018 security patch as well. If you are one of the testers who bought a Samsung Galaxy Note 9 from the US and are using it in India, check the model number of your device. The Galaxy Note 9 One UI beta is now available for the US unlocked N960U1 model as well. It is expected that remaining countries like China, France, Poland, Spain and the UK will soon complete the list of countries that will get the One UI beta programme running.
Reportedly, the UI will also release in beta for the Galaxy S9 family of devices. It was also confirmed that the new UI will come to older flagship Samsung devices like the Galaxy Note 8 and the Galaxy S8 family of smartphones. The upcoming Galaxy S10 smartphones are expected to come preloaded with the new OneUI when they launch next year. Given their past record, the new smartphones will be the first ones to be powered by the Qualcomm Snapdragon 855 chipset.