Virgin Galactic, the spaceflight branch of Sir Richard Branson owned Virgin Atlantic has revealed photos of the LauncherOne being introduced to the Cosmic Girl for the first time. Cosmic Girl is Virgin Galactic's launch platform vehicle and LauncherOne is the company's rocket that will be carried by Cosmic Girl to 30,000 feet for launch. The news comes from Long Beach Airport where the two went through integration checks before being readied for launch.
Virgin Orbit seeks to launch the LauncherOne rocket using a modified Boeing 747, the first of its kind, from 30,000 feet in the atmosphere. Typically, rockets are launched from the top of the carrier aircraft, where they are offered a stable platform which can be set to the right angle for launch. Virgin's project, however, is a little different. Cosmic Girl, the Boeing 747 which serves as the carrier aircraft will carry the LauncherOne rocket under its wing, from where it will be deployed.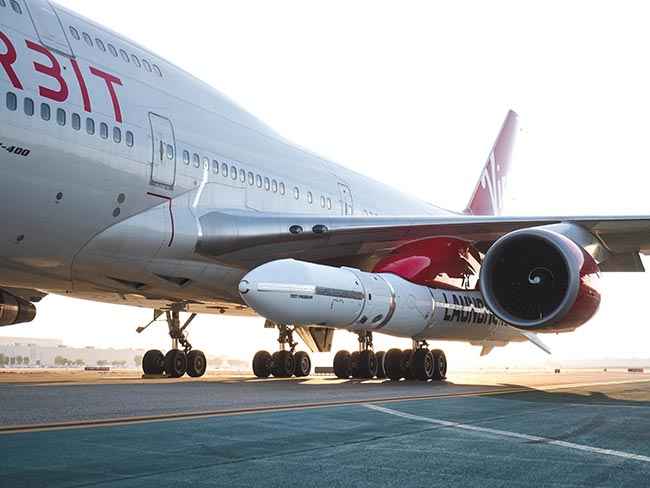 The Cosmic Girl served as a regular aircraft in Virgin Atlantic's fleet before it was shipped off to be part of the Virgin Orbit program. In order to be able to carry the 57,000-pound LauncherOne, Cosmic Girl's interiors were completely stripped, removing almost 64,000 pounds of materials, including seats, overhead compartments and even some internal aircraft features. When Cosmic Girl reaches an altitude of 30,000 feet, she will point her nose 25-degrees upwards, releasing the LauncherOne to do its thing.
LauncherOne is a purpose-built rocket weighing 57,000 pounds and was designed to deploy satellites weighing up to 1000 pounds into orbit. LauncherOne will be hooked onto Cosmic Girl under her wing. The Boeing 747 was originally designed to ferry the 5th engine, so the Orbit team redesigned it to carry the LauncherOne. Once detached from Cosmic Girl, LauncherOne will ignite its rocket, pushing its speed to over 20 times the speed of sound.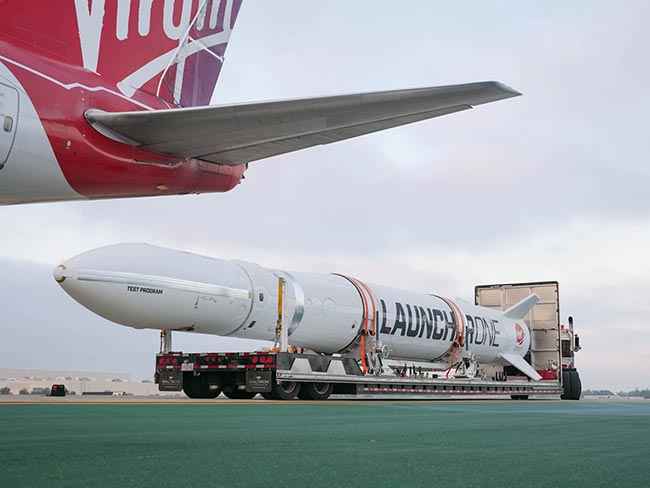 The hardest part about a rocket launch is getting it through the atmosphere. Rockets encounter the most resistance from the lowest layer of the atmosphere, where it is the densest. This layer extends up to roughly 35,000 feet above the surface of the Earth and accounts for the highest amount of thrust required. Projects like that of Virgin Galactic which seek to "raise" the launch platform to the edge of the Troposphere, meaning the rocket needs lesser thrust, and hence fuel, to reach its designated spot in orbit.
All photos courtesy: Virgin Orbit