SpaceX has finally managed to stick the landing of all three booster cores back on Earth, of its Falcon Heavy rocket. The feat was achieved with the second Falcon Heavy launch that took place on April 11 from Cape Canaveral. The two outer cores of the rocket landed on the company's landing pads on the ground at Cape Canaveral, Florida near the site of the launch. On the other hand, the center core touched down on of Space X's drone ships in the Atlantic Ocean. This was the first commercial launch of the SpaceX Falcon Heavy, which carried a Saudi telecommunications satellite into orbit. The three boosters used this time were upgrades from the Space X's Block 5 rockets and are said to deliver 10 percent boost in maximum thrust to the Falcon Heavy. The Next Falcon Heavy launch is scheduled for June this year.
To recall, SpaceX previously attempted to land the three booster cores in February last year. The two side boosters stuck the landing on solid ground but the center core missed its landing on the drone ship. It crashed into the ocean at speeds of about 482.8 km/hour as it couldn't ignite all three of its engines to land due to fuel shortage. However, SpaceX made history by relaunching and landing a used Falcon 9 rocket, making a name for itself by employing a rocket that was used twice to pull off an orbital mission.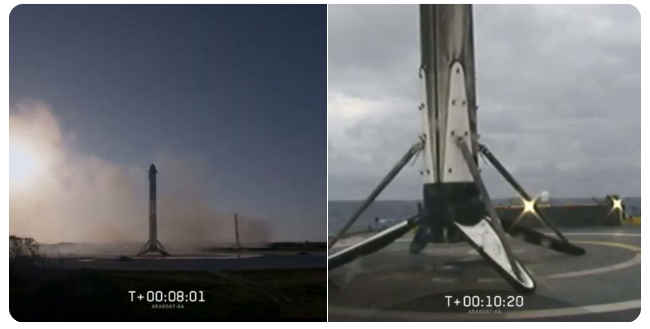 SpaceX CEO Elon Musk has also tweeted that the two fairing halves, the type of fairing that splits into two halves upon jettisoning, will be flown on Starlink mission later this year. As per Teslerati, reusing the two fairings could help the company save around $6M valuable production time per launch. The two fairing halves made use several nitrogen thrusters, steerable parachutes and employed avionics to safely parasail to a soft ocean landing where they were recovered by the company's recovery experts aboard GO Searcher and GO Navigator.
Related reads:
Elon Musk's SpaceX makes history by relaunching and landing a used Falcon 9 rocket