Science is paving the way for bringing lions back from the list of endangered species of animals. Two lion cubs, Victor and Isabel, have been born by the means of artificial insemination and scientists at the University of Pretoria, who are researching the reproductive system of female African lions, say that they are the first such pair of lion cubs in the world. Andre Ganswindt, the Director of University of Pretoria's mammal research institute, says that the two cubs, a male and a female, were born on August 25 and are healthy and normal. He further informs that they had collected sperm from a perfectly healthy lion and his team has pulled off the scientific feat after 18 months of intensive trails, reports AFP.
The female lion that gave birth to the two cubs was artificially inseminated after her hormone levels were found to be viable. "And luckily it was successful," said Ganswindt, adding that "there were several attempts, but surprisingly it didn't take too much effort." As per the researcher, the breakthrough could be reiterated for saving other endangered species of big cats as well. Additionally, instead of transporting lions for breeding, the new method will enable scientists and breeders to simply move the sperm to receptive females.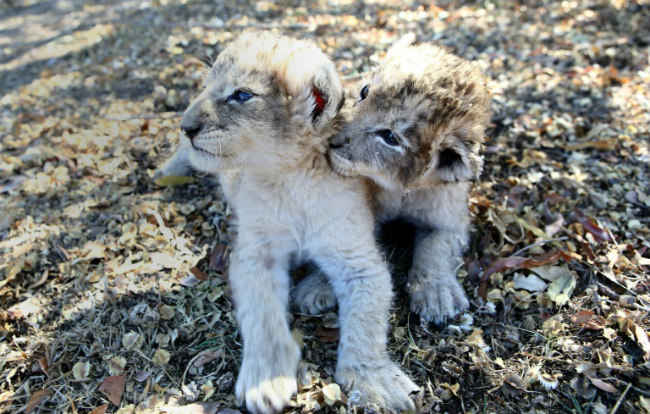 The research was carried out at the Ukutula Conservation Center, which is 80 kilometres northwest of Pretoria in South Africa's North West province. The findings are part of a research being done by Isabel Callealta, a Spanish veterinarian and PhD student at the University of Pretoria. Callealta trained the lions personally in such a manner that they lie next to a fence, where scientists can draw blood samples to determine hormonal levels and assess the perfect time for insemination.
Imke Lueders, one of the scientists involved in the study, said "having the first lion cubs ever born from artificial insemination in their natural range country, and not in a zoo overseas, is an important milestone for South Africa." "Assisted reproduction techniques are another tool in our conservation box, of course not a sole solution, but another technology that we can use to protect endangered species," Lueders adds.
As per the report, Lions are extinct in 26 African countries and their numbers in the wild have dwindled down to 43 percent over the last two decades, with roughly only 20,000 left. The new breeding technique provides some hope to bring these numbers back up again, and not only for lions but also for other big cat species.
Cover and intext Image courtesy: AFP