Ready for some chilly winter news? The European Space Agency (ESA) has released some incredible photos of the Martian crater Korolev, and by the looks of it, it's properly brimming with water ice. The enormous crater is 83-kilometres wide and about 1.8-kilometres deep. Throughout the year it contains thick water ice, with some of it receding only during summer. Composite photos of it were captured by the Mars Express orbiter earlier this year.
According to the ESA, the crater is perennially filled with ice because of a phenomenon called 'cold trap', in which air moving over the gigantic ice deposit cools down and sinks, thereby creating a layer of cold air that sits just above the ice mound itself. This layer acts as a shield and helps the ice remain stable and prevents it from heating up and vanishing. The crater is named after Chief Rocket Engineer and Spacecraft Designer, Sergei Korolev of the USSR.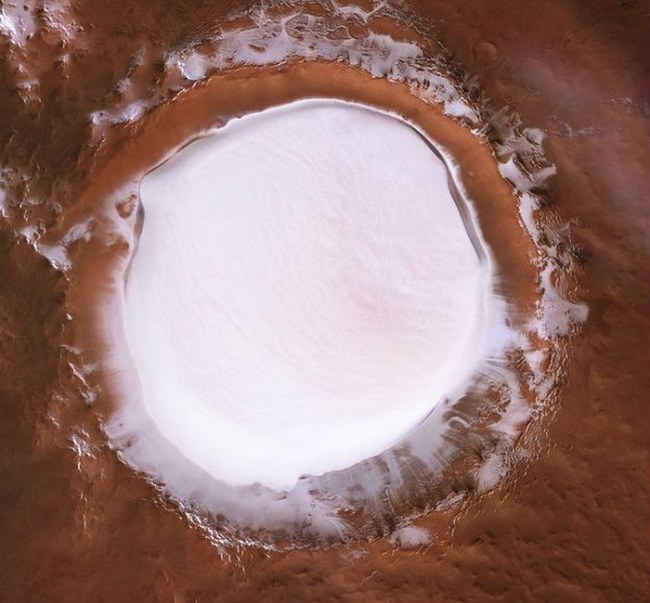 Composite images of crater Korolev were captured by the Mars Express High Resolution Stereo Camera (HRSC) over its numerous passes around the Red Planet's orbit. According to the ESA, the images were captured as five different "strips" that were later combined to form a single image, and each strip was captured over a different orbit. ESA, who later posted the images on Twitter, estimates that crater Korolev has about 2,200 cubic kilometres of water ice.
The Mars Express mission began on June 2, 2003 and is the second longest surviving, active spacecraft behind NASA's Mars Odyssey. "The satellite fired its main engine and entered orbit around the Red Planet on 25 December," writes ESA in its website, which is six months after its launch from Earth. This year's Christmas Day will mark the orbiter's 15th anniversary around the Red Planet.
Cover and inline image courtesy: ESA