Why, it seems like it was only yesterday that NASA's Martian rover InSight covered half the distance to Mars and sent back a selfie of its insides as proof that it was doing all right. InSight is now only days away from landing on Mars. Come next week it will hit Mars' atmosphere, where it must slow down drastically without breaking apart for a nice, soft landing on Mars' surface. InSight must do all this by itself in a span of six and a half minutes.
Launched on May 5 from California, InSight will face terrific forces and temperatures on its way through Mars' atmosphere: upon reaching the atmosphere at a tremendous speed of 19,800 kmph, InSight will run pre-programmed steps to slow itself down to less than 1,600 kmph and protect itself from immense heat. During the ride through Mars' atmosphere InSight's heat shield will have to face an extreme temperature of about 1,480 degrees Celsius.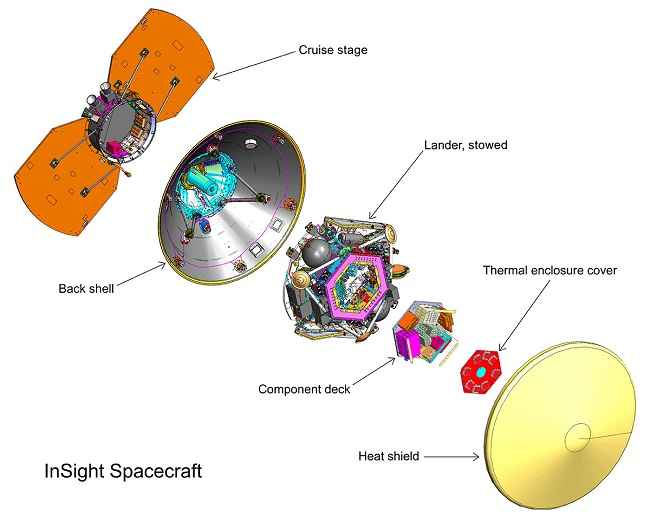 The big problem NASA's experts had to tackle was Mars' relatively thin atmosphere, reports The Verge. Because Mars' atmosphere has less than one-hundredth the density of Earth's, NASA engineers had to come up with a more effective solution than the supersonic parachute that's used for reentry into Earth. So, they've used thrusters that fire downward to reduce speed. Similar thrusters were used on the Curiosity rover back in 2012.
Mission controllers over at NASA's Jet Propulsion Laboratory will monitor InSight's landing process with bated breath but will be able to do little to control it in case things go wrong. A signal from Earth to Mars takes approximately eight minutes to reach. "By the time we're understanding what's happening with the landing, there's a large enough delay that we can't actually control the vehicle from Earth," said Rob Grover, the Systems Lead for InSight in a statement to The Verge. Once InSight lands safely on Mars, it will begin studying the interiors of the Red Planet. InSight will send back information that will help us better understand the planet's internal temperature and composition.
Inline and cover image courtesy: NASA