One of the most vital NASA tools, the Hubble Telescope, has captured an image which shows 'spring season' in a galaxy far away from Earth. According to the US space agency, the telescope has captured an image from Space showing bright and colourful pockets of star formation, which are blooming like roses in a spiral galaxy named NGC 972. The galaxy is situated about 70 million light-years away.
According to NASA, the orange-pink pockets are created because of a reaction between the Hydrogen gas and the intense light streaming outwards from nearby newborn stars. In the image, you can see the bright patches amid dark, tangled streams of cosmic dust in the galaxy. The NGC 972 galaxy was found by German-British astronomer William Herschel in 1784.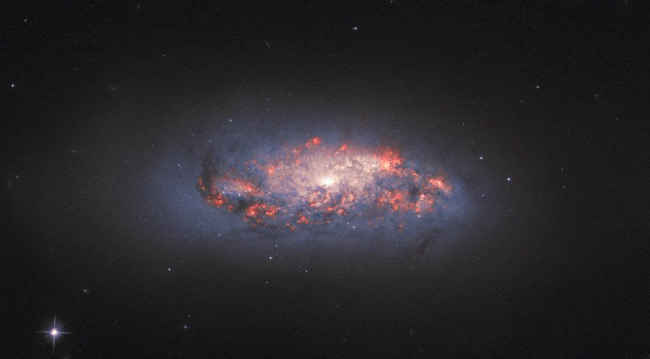 "Astronomers look for these telltale signs of star formation when they study galaxies throughout the cosmos, as star formation rates, locations, and histories offer critical clues about how these colossal collections of gas and dust have evolved over time. New generations of stars contribute to and are also, in turn, influenced by the broader forces and factors that mold galaxies throughout the universe, such as gravity, radiation, matter, and dark matter," NASA said.
The development follows another cosmic spectacle that the Hubble Telescope captured last week. The telescope captured an image of celestial fireworks that have been happening for nearly 170 years in the universe. These fireworks started when a super-massive star underwent an outburst. The star is named Eta Carinae and it is pegged to have a mass (in its early days) equivalent to that of 150 suns.
The explosions, which is emitting gases from the star in a double-star system 7,500 light-years away, are glowing in red, white and blue. The explosions are taking shape of bipolar ballooning lobes gas, filaments, and dust, the US space agency said. The eruption is so huge and bright that for a time it was a point of navigation, and now is still visible to the naked eye.
Recently, NASA celebrated the 29th anniversary of the Hubble Space Telescope. It was launched aboard the Space Shuttle Discover on April 24, 1990, deployed in space on the next day and entered service on May 20. NASA will soon be launching its successor - the James Webb Space Telescope in early 2021. Reportedly, it will have a huge upgrade over the Hubble telescope and will be able to peek further into deep space.