Remember NASA's "Mars 2020" mission to go look for signs of life on the Red Planet? Well, NASA is currently testing its Mars 2020 rover and stacking up other related equipment and at its Jet Propulsion Laboratory in Pasadena, California in preparation for the mission. As the American space agency readies itself for a July 2020 launch, it's inviting space fans (like you and me) to send in their names as it has done in the past with other uncrewed missions.
If you send in your name, NASA will etch it on microchips that the rover will take with it to Mars and give you an electronic boarding pass to Mars as a souvenir. Remember: the last date for name submissions is September 30. If you're interested, head to this website to get started. "The opportunity to send your name to Mars comes with a souvenir boarding pass and "frequent flyer" points. This is part of a public engagement campaign to highlight missions involved with NASA's journey from the Moon to Mars," writes NASA in its news release on the matter.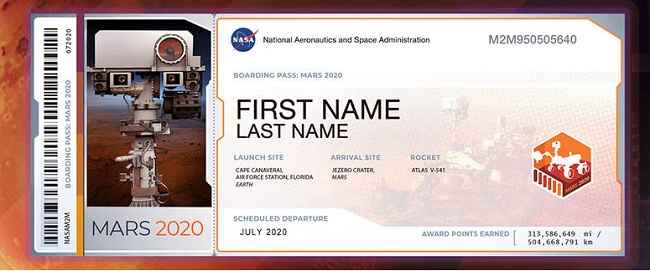 A sample souvenir boarding pass to Mars
Back at NASA's Jet Propulsion Laboratory, the space agency says things are stacking up one by one. "One of our main jobs is to make sure the rover and all the hardware that is required to get the rover from here on Earth to the surface of Mars fits inside the payload fairing of an Atlas V rocket, which gives us about 15 feet [5 meters] of width to work with," says David Gruel, an ALTO (assembly, test and launch operations) Manager for the Mars 2020 mission in a news release.
According to the news release, stacking ended after three weeks on April 3 and the spacecraft was transported to the laboratory's Environmental Test Facility for acousting testing. In the test, the entire stack of equipment that's loaded into the payload fairing is "bombarded with a thundering wall of sound designed to imitate the sound waves generated during launch." Bolts are later checked for integrity and tightness. After that, the stack is put in a thermal vacuum chamber for a week to see how it behaves in flight-like conditions.
When Mars 2020 lands on Martian surface next year, it will conduct geological assessments of its landing site on Mars (Jezero crater) to determine the habitability of the environment and look for signs of ancient Martian life. It will also assess natural resources and hazards for future crewed missions. The rover will also cache samples of Martian rock and soil in a sealed packet so they can be picked up and returned to Earth during a later Mars mission.
Inline and cover images courtesy: NASA
For more technology news, product reviews, sci-tech features and updates, keep reading Digit.in or head to our Google News page.