OnePlus TV 32Y1 - Smarter TV
Android TV with superior craftsmanship and elegant design.
Click here to know more
Advertisements
It appears India's second uncrewed mission to the Moon has finally got a launch date, or a scheduled launch window, to be more precise. According to a press release sent out by the Indian Space Research Organisation (ISRO) yesterday, Chandrayaan-2 will blast off from Earth sometime between July 9 and 16 this year. After a successful launch, it will then be expected to land on the Moon on September 6. As usual, the launch is expected to happen at the Satish Dhawan Space Centre in Sriharikota.
According to ISRO, Chandrayaan-2 consists of three modules: the orbiter, lander (Vikram), and rover (Pragyan). The first two will be interfaced mechanically and stacked together as a single integrated module inside the launch rocket. The rover, on the other hand, will be packed inside the lander. When Chandrayaan-2 reaches the moon, the lander (and the rover inside it) will separate from the orbiter and soft-land in the south polar region of the Moon.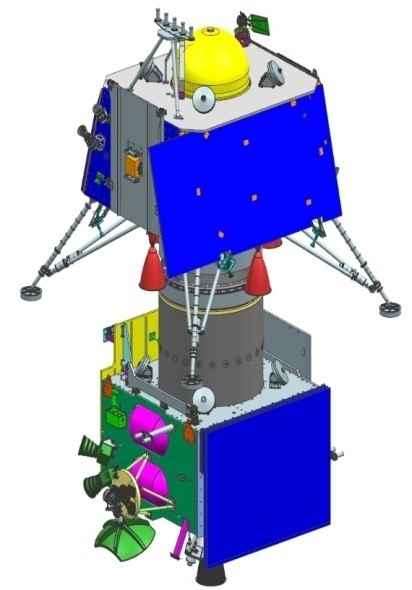 Outline of Chandrayaan-2
The lunar south pole is a point of interest among many moon explorers as it contains traces of water ice. Sunlight does not reach the bottom of many craters in this region. Hence, these craters are cold and expected to contain fossils of the early Solar System. Pragyan, whose name stands for "wisdom" in Sanskrit, is expected to move about on six wheels around the lunar south pole and conduct chemical analyses of the lunar surface. For navigation, the 27-kilogramme rover will use a couple of NAVCAMs on the front side, whose feed will be relayed to the Earth team.
The rocket responsible for Chandrayaan-2's launch will be the GSLV Mk-III. The space agency's long-standing three-stage Geosynchronous Satellite Launch Vehicle has two solid strap-on boosters, a core liquid booster, and a cryogenic upper stage. The launch vehicle can carry a maximum of 4,000 kilogrammes to geostationary transfer orbit and a maximum of 8,000 kilogrammes to low earth orbit (up to 600 kilometres from the planet's surface).
Inline image courtesy: ISRO