HIGHLIGHTS

ISRO publishes more images shot by Chandrayaan-2 orbiter

These images represent topographic mapping of the lunar surface

They give a 3D view of an isolated crater and a wrinkle ridge
ISRO has recently published another set of images taken through the Chandrayaan-2 orbiter on its official Twitter account. The fresh images, taken through the orbiter's inbuilt Terrain Mapping Camera-2 (TMC-2), give us a 3D view of an isolated impact crater on the moon's surface. According to the Indian space agency, the images were shot from a 100-kilometre orbit in the process of preparing a digital elevation model (DEM).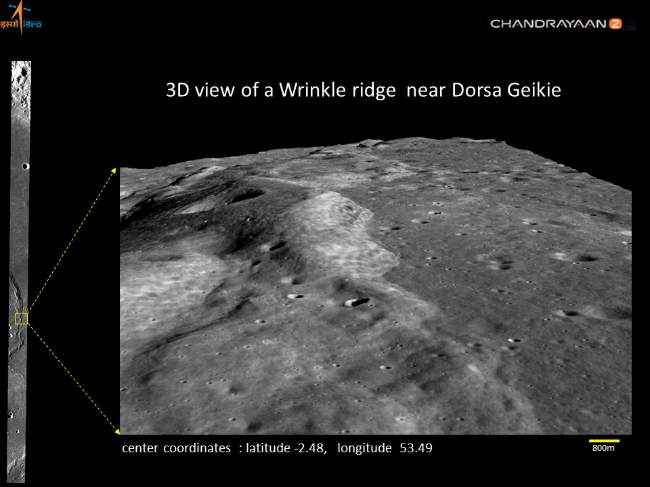 Wrinkle Ridge Dorsa Geikie
ISRO says that the TMC-2 imaging equipment used on board the Chandrayaan-2 orbiter is a revised version of the original TMC unit that was on board Chandrayaan-1. The images taken through the TMC-2, when processed into DEMs, enable lunar geomorphology, or the study of the origin and evolution of topographic features on the moon's surface. This includes craters and other topographic features such as lava tubes, lunar domes, and wrinkle ridges.
Wrinkle ridges are long, rigid, venous formations found around craters on the moon. Spanning hundreds of kilometres, they are formed when waves of lava cool and contract. Also called veins sometimes, they are usually named with the Latin prefix 'Dorsa'. One of the wrinkle ridges captured by the TMC-2 is near Dorsa Geikie. Though you probably can't tell from ISRO's image, this wrinkle ridge is expected to be many kilometres in length.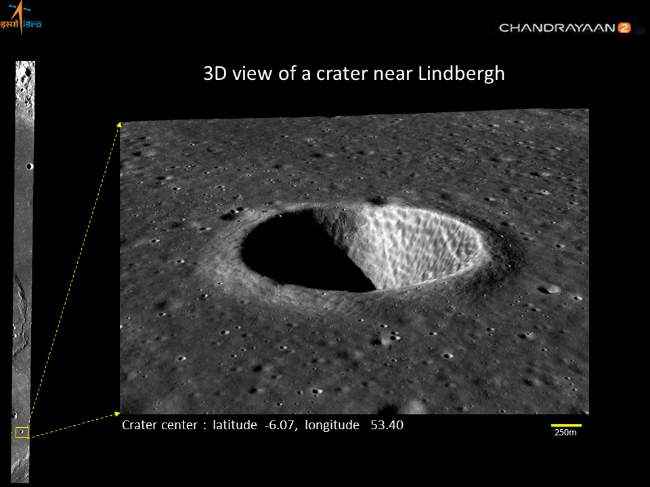 Isolated Crater near Lindbergh
One of the images in ISRO's recent set gives us a 3D oblique view of an isolated impact crater "near Lindbergh". Though it probably looks small in the image, the crater is speculated to have diameter of 16 kilometres and height of 1,400 metres. It is shaped like a bowl and the interior floor is half of its total diameter (8 kilometres). The Lindbergh crater was previously named Messier G, after notable French astronomer Charles Messier.
Reference: Moon Crater Messier, Dorsa Geikie (Wikipedia)