Want to modernise your banking loan application?
Build an application that analyses credit risk with #IBMCloud Pak for Data on #RedHat #OpenShift
Click here to know more
Advertisements
Highlights:
ISRO launches electronic intelligence satellite EMISAT and 28 other nano satellites.
The launch was done under the 47th mission named PSLV-C45.
The satellite was launched to provide a microgravity environment for research organisations to perform experiments.

In yet another space feat, ISRO has successfully launched the electronic intelligence satellite EMISAT along with 28 other nano satellites of other countries under the 47th mission of the Indian Polar Satellite Launch Vehicle (PSLV) named PSLV-C45, from Sriharikota. The Indian space agency said that the EMISAT was successfully injected into the sun-synchronous polar orbit and the other 28 customer satellites will be placed into their designated orbits.
"India's Polar Satellite Launch Vehicle (PSLV), in its 47th mission (PSLV-C45) successfully launches EMISAT and 28 international customer satellites from Satish Dhawan Space Centre SHAR, Sriharikota. Weighing about 436 kg, EMISAT based on ISRO's Indian Mini Satellite -2 (IMS-2) bus platform. The satellite is intended for electromagnetic spectrum measurement," ISRO has announced.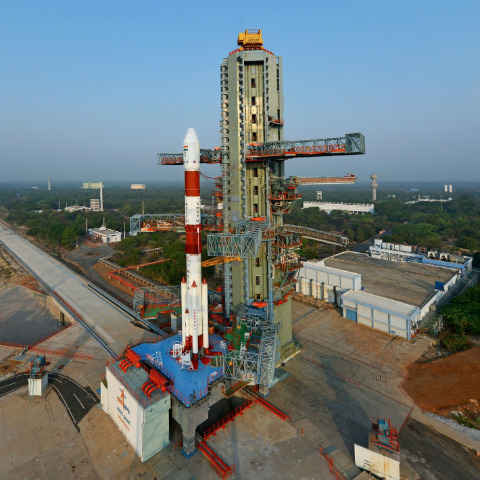 The 28 international customer satellites are from four countries - Lithuania, Spain, Switzerland and the US. All these satellites are being launched under commercial arrangements, ISRO noted. This is the 71st launch vehicle mission for Sriharikota. Countdown for launch of #PSLVC45 began at 06:27 am (IST) on Sunday, and the countdown for the liftoff began at 9:27 am on Monday, ISRO said.
"1200 people watched and enjoyed today's #PSLVC45 launch from the new viewers' gallery at Sriharikota. Next time we will have 5000 people watching the launch," Dr K Sivan, Chairman, ISRO, said. According to the space agency, the PS4 (fourth stage rocket) orbital platform is envisaged to provide a microgravity environment for research organisations and academic institutes to perform experiments.
"In this mission, the PS4 hosts three payloads, namely, Automatic Identification System (AIS) from ISRO, Automatic Packet Repeating System (APRS) from AMSAT (Radio Amateur Satellite Corporation), India and Advanced Retarding Potential Analyzer for Ionospheric Studies (ARIS) from Indian Institute of Space Science and technology (IIST)," ISRO said in a statement. The latest development comes almost a week after India tested an anti-satellite (ASAT) missile in the Mission Shakti operation. The missile intercepted its target and destroyed it in three minutes.
Related Read:
Mission Shakti: PM Modi wants draft space doctrine prepared around ASAT missile: Report