Today's Google Doodle features a dorky looking spacecraft clicking pictures of Planet Saturn and then stopping for a quick selfie. What Google's cute doodle is actually trying to symbolise is spacecraft Cassini's final dive between Saturn and its rings.
The Cassini spacecraft is a joint endeavour between NASA, ESA (European Space Agency) and the ASI (Italian Space Agency, Agenzia Spaziale Italiana). The unmanned spacecraft is the first space probe to ever enter the orbit of Saturn, where it arrived back in 2004. Cassini has been in space for the past 19 years and 190 days, of which it has spent 12 plus years in Saturn's orbit. It's mission to study the planet and its various natural satellites is now nearing completion.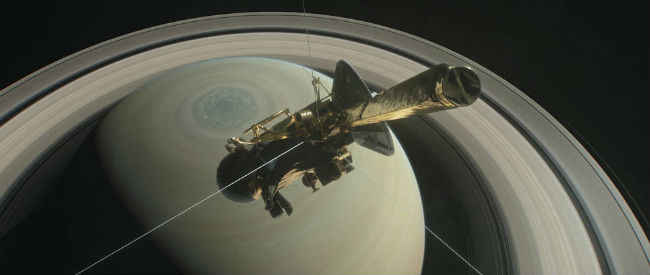 This artist's rendering shows NASA's Cassini spacecraft above Saturn's northern hemisphere, heading toward its first dive
Today, April 26, marks a historic day as Cassini makes its first dive through the narrow gap between Saturn and its rings, a space that till now remains unexplored. Cassini will use its 13-feet long dish-shaped high-gain antenna as a protective shield while passing through the ring plane, although, scientists do not expect any particles larger than smoke particles. As per NASA's website, data collected from the dive will be used to ascertain the size and density of ring particles in the gap, in preparation for future dives.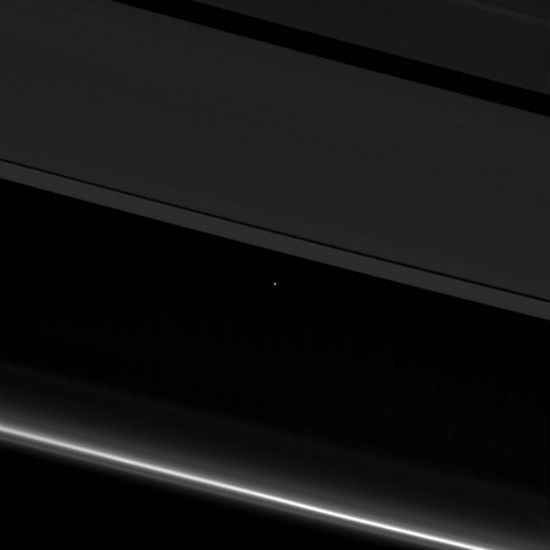 NASA's Cassini spacecraft captured this view of planet Earth as a point of light between the icy rings of Saturn on April 12, 2017
By now, Cassini would have completed its dive, which began during the early hours of the day, and regained contact with Earth as the giant, 230-foot (70-meter) Deep Space Network antenna at Goldstone, California, listens for the spacecraft's radio signal. Images from the spacecraft are scheduled to be available tomorrow, no earlier than 12:30 a.m. PDT (12:30PM IST).
Did you Know: The maximum speed clocked by Cassini was 98,346 mph (44 kilometers per second) relative to the sun on June 25, 1999.
If you want to follow Cassini and its Saturn dive, you can check out the mission's Twitter account for more updates on the Spacecraft and its flight. The Spacecraft is scheduled to end its exploration mission on September 15, 2017, when it will be destroyed while entering Earth's orbit.