Update July 4, 11am: The website to register for viewing the launch of Chandrayaan 2 live is now back up and running after suffering outages. You can visit the same here.
The world's eyes are on ISRO and the Chandrayaan-2 launch, but ahead of the mega event, disappointment has set in for those hoping to watch the mission launch live. The Indian Space Research Organisation recently released a notice calling upon people to register and get a chance to watch the launch of the much-awaited Chandrayaan-2 mission live. The space agency promised, "Online registration process for witnessing the forthcoming GSLV MKIII-M1 / Chandrayaan-2 mission will commence @ 00:00 hrs on 04th July 2019."
To make matters more confusing, ISRO decided not to include a link to the online registration page in its notice. However, some digging around led to the discovery of the Satish Dhawan Space Centre (SDSC) SHAR website, where a link to register for the launch event has been posted. However, the link does not work and the registration page seems to have crashed.
After several attempts, we managed to load the page, wherein it asked for an email ID for registration. However, the page crashed again after submitting the email address. To our surprise, after 30 minutes of submitting the email ID and living in oblivion, we received an email directing us to provide additional details like Name, Age, Gender, ID TYPE (AADHAR CARD/DRIVING LICENCE/VOTER ID/STATE GOVERNMENT ISSUED CARD/CENTRAL GOVERNMENT ISSUED CARD/INSTITUTION ID CARD), in order to generate the passes. After going through the entire process, we got stuck at the CAPTCHA verification and the site would not allow us to proceed after several attempts.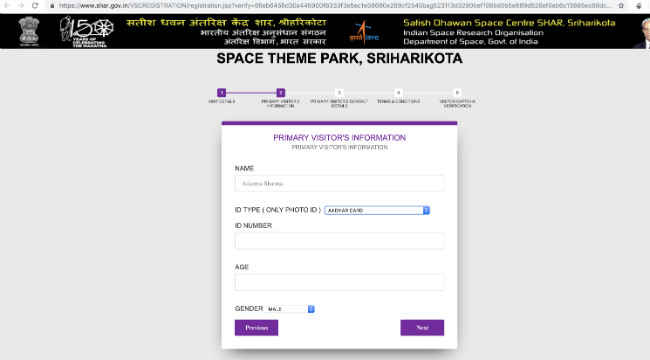 Unfortunately, repeating the process for a second time delivered a page which says that the site is currently unavailable. It's possible that the website is being fixed as we speak.
Expressing their frustration, several people took to Twitter complaining about their inability to register.
The wait is on since a high number of registrations are expected and the attendance is limited.
Chandrayaan-2, India's first rover-based space mission and the world's first expedition to reach the Moon's south polar region, is scheduled to blast off from the Satish Dhawan Space Centre (SDSC) SHAR spaceport in Sriharikota, Andhra Pradesh on July 15 at 2:51 AM.