Breakthrough Listen is an ambitious project that is using a number of astronomical instruments over a period of ten years to detect signs for advanced extraterrestrial civilisations. There is an ongoing radio and optical survey of 1,000,000 million stars closest to the Earth, the galactic plane of the Milky Way and the 100 nearest galaxies for signs of technologies deployed by advanced civilisations, also known as technosignatures.
Technosignatures that can be detected over interstellar distances include communication beacons, rocket trails or Clarke exobelts - rings of satellites around planets. By contrast, finding alien life forms through bio signatures involves probing the atmospheres of exoplanets for signs of methane, or disequilibrium of the gases in the atmosphere, that cannot be explained by natural sources. Breakthrough Listen has announced a collaboration with the VERITAS (Very Energetic Radiation Imaging Telescope Array System) array of four 12 meter telescopes, located at the Fred Lawrence Whipple Observatory in Arizona.
"Breakthrough Listen is already the most powerful, comprehensive, and intensive search yet undertaken for signs of intelligent life beyond Earth. Now, with the addition of VERITAS, we're sensitive to an important new class of signals: fast optical pulses. Optical communication has already been used by NASA to transmit high definition images to Earth from the Moon, so there's reason to believe that an advanced civilization might use a scaled-up version of this technology for interstellar communication," said Dr Andrew Siemion, who leads the Breakthrough Listen side of the collaboration from the University of California, Berkeley.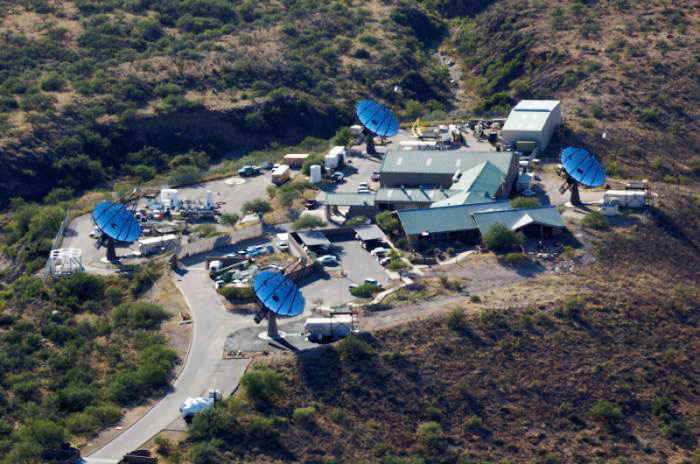 The VERITAS telescope array. Image: N. Galante.
The VERITAS telescope is one of the most powerful telescopes in the world for studying high energy astrophysics, and is typically used for observing gamma rays. However, turns out that the telescope array is suitable for the goals of the Breakthrough Initiative, even though the instrument was originally not designed for that purpose. The array will be used for detecting a very specific type of technosignature - laser pulses, or beacons that are of a short duration, a few nanoseconds. The VERITAS instrument has previously been used to scan for such short optical pulses from KIC 8462852, a star went through mysterious and periodic phases of dimming.
Lasers can be used in space by an advanced civilisation for a number of reasons, including transmitting data, controlling robotic probes, broadcasting a timestamp, measuring distances or to locate an object. These laser flashes, even if they last a billionth of a second, would outshine any nearby stars, provided they are aimed straight at the Earth. The VERITAS team has narrowed down the search to 120 target stars in particular. Each star will be observed for a duration of about fifteen minutes, and if there are any laser pulses detected, the observation time will be extended to rule out false positives. The important factor here is the confirmation from all four telescopes in the array.
Yuri Milner, founder of Breakthrough Initiatives said, "When it comes to intelligent life beyond Earth, we don't know where it exists or how it communicates. So our philosophy is to look in as many places, and in as many ways, as we can. VERITAS expands our range of observation even further."
Breakthrough Listen, which was co founded by Stephen Hawking has collaborated with other observatories before, including the Jodrell Bank Observatory, The Green Bank telescope and the CSIRO Parkes Radio Telescope. Apart from looking for technosignatures, the initiative also contributes to finding exoplanets, detecting fast radio bursts and studying interesting objects such as 'Oumuamua.
Sources: Breakthrough Initiatives, UC Santa Cruz, University of Delaware
Cover Image: A laser beam from the VLT's Yepun telescope. Credit: ESO/G. Hüdepohl