Canon has launched four new document scanners, and four new high-speed A4 copier-based MFDs (multi-function devices), in India, meant for the SOHO and SME segments of the market, with their low cost per page, space conserving form-factors, low initial investment, and managed document solutions (MDS).
Starting with the new high-speed A4 copier-based MFDs, Canon has decided small business owners will prefer the lowered cost of an A4 MFD, as most businesses don't really need an A3 MFD. The fact that the new A4 MFDs are copier-based, also helps keeps running costs, and cost per page low.
Canon's four new high-speed A4 copier-based MFDs are in the imageRUNNER 1700 series, and models range from 30 ppm (pages per minute) to 50 ppm. The series is called 'high-speed' as apart from the speedy pages per minute output, can start up in less than five seconds. It offers a maximum capacity of up to 2300 pages, with the standard at 650 pages.
The Canon imageRUNNER 1700 series features an improved user interface, and a large 5.7 inch touchscreen display, with an intuitive menu selection and an interface which can be adjusted so that users can operate the device from any position. Users can also print from and scan to USB memory sticks. The new compact A4 series is also compatible with Canon's eMaintenance and iWMC (iW Management Console), granting service providers and administrators access to real-time device performance information. The MFDs also have a built-in ID card scanner, the ability to combine multiple documents into a single sheet, creation of high-compression PDFs and searchable PDFs, remote user interface and e-maintenance, a standard print-capability of 1,200 x 1,200 dpi, and copy-capability of 600x600 dpi.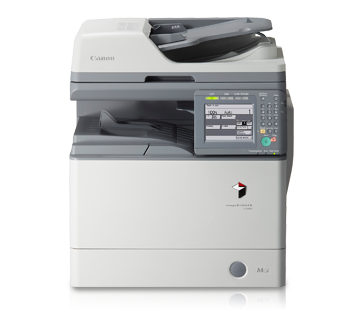 Models of the Canon imageRUNNER 1700 series include the imageRUNNER 1730, 1730i, 1740i, and 1750i. The first two print/copy at 30 ppm (A4), the 1740i at 40 ppm, and the 1750i at 50 ppm. The imageRUNNER 1730 is the only one to feature 256MB RAM, the other three feature 512MB. Other differences include the drum yield, where the imageRUNNER 1730/1730i deliver approximately 89,000 sheets, while the imageRUNNER 1740i delivers approximately 97,000 sheets, and the 1750i delivers 112,000 sheets. The toner yield is roughly 15,100 sheets. Find pricing in the table below.
Coming to the imageFORMULA document scanners, Canon has launched four models, ranging from the personal and portable P-215, to the progressively larger DR C-125, DR-M140, and DR M-160, though all of them have been designed to maximize desk space. All four of the Canon Document Scanners are compatible with both Mac and Windows, and come with a variety of bundled software, such as Presto! BizCard, Evernote 3, PaperNote, CaptureOnTouch, CaptureOnTouch (Lite), eCopy PDF Pro Office, OmniPage, and PaperPort. ISIS and TWAIN drivers are also bundled.
All four document scanners also support both simplex and duplex printing, have a Contact Image Sensor as their scanning element, and a RGB LED as the light source. They all support scanning resolutions from 150x150 dpi to 600x600 dpi, and, have a card slot for easy ID card scanning.
| | | | |
| --- | --- | --- | --- |
| | | | |
| | | | |

The Canon Document Scanner P-215, the ultraportable scanner, has some interesting features. It can be powered by USB (an AC adaptor is also bundled), supports USB 3.0, and, doesn't require any drivers – it is purely plug and play. Please find the pricing for all four document scanners below:
| | |
| --- | --- |
| Product Name | MRP (Rs.) |
| iR1750i 230V Toner | 195,000 |
| iR1740i 230V Toner | 156,875 |
| iR1730i 230V Toner | 130,000 |
| iR1730 230V Toner | 113,750 |
| P -215 | 19,250 |
| DR C -125 | 36,900 |
| DR M – 140 | 71,250 |
| DR M - 160 | 86,250 |