The Galaxy Note 9 'Unpacked' event is nearing and reports centering the phablet are picking up speed. While on one hand an unboxing video has already leaked the smartphone, on the other, a report claims that Samsung may launch a wireless fast charger that can charge two supported phones simultaneously or a phone and smartwatch. A photo of the charger, Wireless Charger Duo, was shared on Twitter by Roland Quandt with a message, "This is the Samsung Wireless Charger Duo (EP-N6100) for the Galaxy Note 9. Charges the Galaxy Watch alongside the phone." The charger in the photo bears the same functionality that Apple's AirPower mat will have.
If you observe the photo, you can see that on the side of box, there is a diagram that shows two charging points on the charger and a caption, "Dual fast wireless charging." Below the diagram, you can see two phones kept side-by-side and captioned, "Charging the two phones." There is a third figure that shows a phone and a watch kept side-by-side. The caption below the third figures reads, "Charging the phone and Galaxy Watch." Now, if the image is true, it implies that Samsung will soon launch a smartwatch under the name Galaxy Watch. We reported this development last week when the watch landed at US Federal Communications Commission (FCC). Another information that the image gives is that the Galaxy Watch may come with wireless charging capabilities.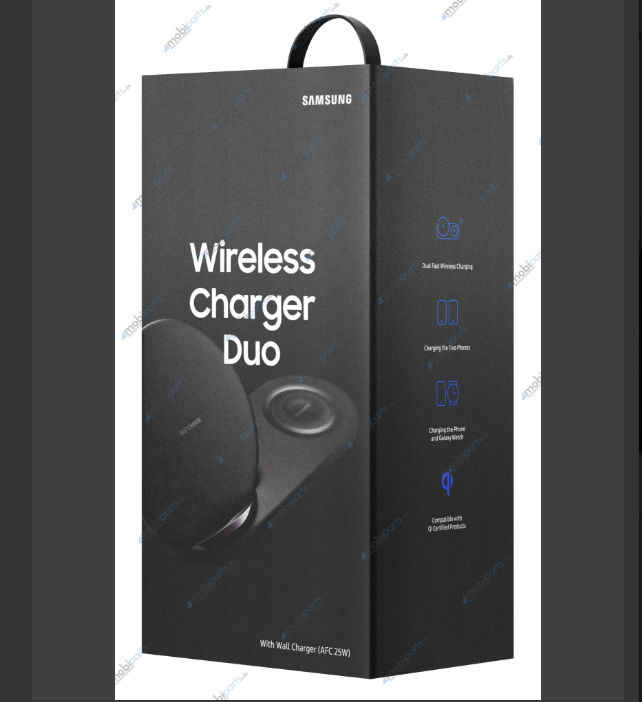 The US FCC listing did not say anything about the charging, but it surely noted that the next generation of Samsung's smartwatch will be called 'Galaxy Watch' (instead of Gear S4). The smartwatch is expected to feature Wi-Fi and LTE connectivity. The Samsung Galaxy Watch is codenamed "Galileo" and has a 1.2-inch display. You can read about it here.
Samsung may launch the Galaxy Watch alongside the Galaxy Note 9 which may come with Bixby 2.0. The Galaxy Note 9 is expected to feature Samsung's current flagship chipset, the Exynos 9810. In the US, the South Korean company will most likely launch the phone with the Snapdragon 845 SoC. It is expected to retain the "Infinity Display" and feature a 6.4-inch Super AMOLED display and have a 4,000mAh battery. The phone is expected to offer 6GB of RAM and run Android 8.1 Oreo.
The company, however, has changed the design of the back panel and moved the fingerprint sensor below the dual-camera setup just like in Galaxy S9+. The dual camera is expected to have two 12MP sensors, both of which feature OIS. At the front of the device is an 8MP camera. The phone is expected to offer an improved S-Pen that would feature Bluetooth capabilities to control music and remotely click photos.