Corning has not revealed the name of the smartphone that will first sport the Gorilla Glass 6, but going by leaks and rumours, it could either be the Oppo F9 or R17.
US-based specialty glass maker Corning Inc. has already launched the next generation of Gorilla Glass, the Gorilla Glass 6. During its launch in the US last month, the technology giant did not provide any information regarding smartphone that will sport the newest tough glass. It was widely expected that the Samsung Galaxy Note 9 will get the Gorilla Glass 6 ahead of the others due to its August 9 launch date, but tCorning has now announced that it will be Oppo's flagship device that will get to show off Gorilla Glass 6 first. The said smartphone was not named by Corning, but the company said that it is slated for release in the coming weeks.
According to rumours and the spate of leaks making the rounds on the internet, Oppo could bring the Gorilla Glass 6 to either the Oppo F9 or the Oppo R17. Last week, the Chinese smartphone-maker uploaded a poster on Twitter teasing the F9 smartphone with an unconventional 'teardrop' notch design. Meanwhile, a report claimed that Oppo is working on the R17 smartphone that is expected to have 10GB RAM. Both phones seem like potential candidates for Gorilla Glass 6.
"We are excited to have OPPO adopt Gorilla Glass 6. OPPO's new flagship model will provide consumers, who depend on their smartphone for every interaction in their digital lives, increased protection against multiple drops," John Bayne, Vice President and General Manager, Corning Gorilla Glass, said in a statement.
Oppo was one of the early and leading adopters of Gorilla Glass 5. It has used this glass in a variety of smartphones, including its recent flagship Oppo Find X and R15. "OPPO and Corning have always maintained a close working relationship, which has enabled a superior user experience for consumers through multiple versions of OPPO smartphones," added Andy Wu, Oppo Vice President.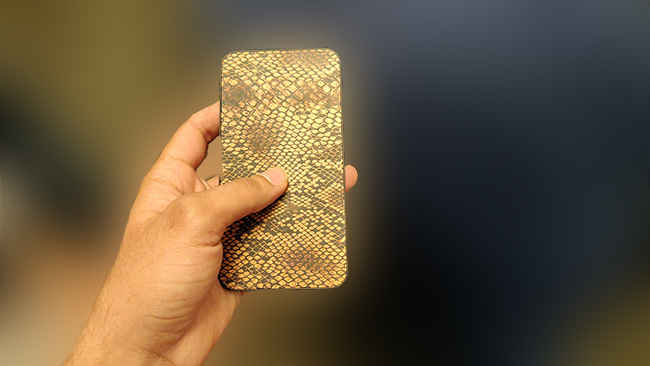 Snake pattern on Corning Gorilla Glass 6
Corning says that the Gorilla Glass 6 is it's most durable cover glass to date. To improve cover glass performance, Corning scientists developed and engineered an entirely new material to address the challenge of multiple drops. According to the company, in lab tests, Gorilla Glass 6 survived 15 drops from one meter onto rough surfaces. Under the same test conditions, competitive glass compositions, such as soda lime and aluminosilicate, did not even survive the first drop. This time around, Gorilla Glass 6 comes with the ability to display new designs and textures. At the launch of Gorilla Glass 6, Corning showed us some really cool samples of glass panels, the texture of which can be made to feel like wood or even snake skin by using the company's proprietary process.
During the launch, the company also announced Gorilla Glass DX and Gorilla Glass DX+ for wearables. One of the features of the Gorilla Glass in that its customisable, and it is claimed to be twice as strong as the Gorilla Glass 5. The company says that Corning Gorilla Glass has been designed into more than six billion devices by more than 45 major brands.