Vostro 3501
Popular tech to stay connected anywhere. Save more on exciting Dell PCs.
Click here to know more
Advertisements
When it comes to the RGB parade, it all started with backlit keyboards and gradually crept into almost every single component of your PC. RGB mice? Check. RGB mousepads? Check. RGB motherboards? Check. RGB RAM? Check. RGB SSD? Check. And now, thanks to Lian Li, you're power supply cables get the same boost with its new Strimer RGB PSU cables.
The Strimer cables are a set of PSU extension cables that can connect to your motherboard to your PSU using the motherboard's 24-pin power connector or it could directly connect to your video card. Syncing them to the rest of your build's light show shouldn't be an issue. All you'll have to do is to plug them into the board's RGB header and then using software like Asus Aura Sync or MSI Mystic Light Sync to control the effects. In case your board does not come with an option like that, the Strimer comes preloaded with 10 lighting presets.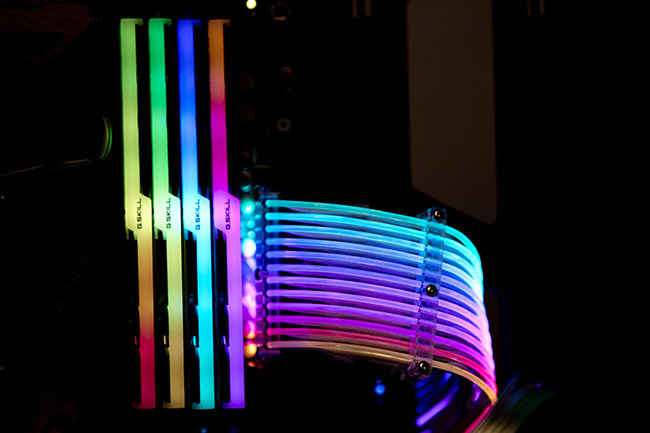 Sleeve cabling has always been an interesting thing to do with your PSU cables. Not only does it give it a neater look and feel, it actually helps organise your cables better. And today, making your PSU cables RGB seems like the next logical step. Especially when the Strimer is compatible with almost every PSU out there. The cables have reportedly been developed with inputs from German celebrity overclocker der8auer.
Here what Lian Li has to say about the Strimer, "PSU cables are either dull or look messy and becomes a challenge to builders and gamers, becoming a task to manage and keep the cables tidy. Sleeved cables have become a trend and allowed a cleaner, more stylish solution for managing and presenting cables, coupled with cable combs, they made a good option until now. Lian Li is revolutionizing the cable management game with the Strimer cable LED."
No pricing or availability details have been announced yet.