Philips, HMP 3000, DS 1100, Fidelio Docking Stations, BDP 3200, HMP 3000, Fidelio Apps, ipod docks, HD Media Player,
Philips has traditionally always been associated with Audio (right from the invention of the erstwhile audio cassette), and in continuation with this legacy, it has aggressive plans to consolidate its position by introducing newer innovations. Philips is currently the leader in the entry level home theater segment in India and with its newer range of products, wants to look at managing content better.
"Philips has played a significant role in the entertainment segment for many decades, and throughout has used its competence and capabilities to bring content to life," said Weibo Vaartjes, Senior Vice President, Philips Consumer Lifestyle. "There's a lot of content available now-a-days; its in your phone, in your portable media players, on the cloud. It's everywhere. But once you get your content, consumers want to experience it as the artist intended. Especially when it comes to audio," he added.
We saw a lot of products on display at the press conference in Mumbai. Some of them such as the Go Gear PMPs, Home Theater Systems and Blu-ray players are already in the market, whereas newer ones such as a range of Fidelio iPod docks, a new DVD player-cum-gaming console among others are slated for launch in the coming months. One of the most interesting products (and a new product category for the Dutch giant), was an HD Media Player dubbed HMP 3000. Details about products are given below. Be sure to watch the video hands-on with the HMP 3000 player.
Philips HD Media Players
For us the most interesting device showcased at the event was the HMP 3000. A nice looking device, hopefully it will be as impressive a performer as it seems on paper. You can connect a flash drive via USB or read data off an SD card slot. The device is capable of full HD 1080p (with upscaling). Apart from strong file format support, the most unique feature was the ability to load ISO image files. Some of the files formats supported include DivX HD, MKV, RMVB, MP4, etc.
The menu system seemed very intuitive and easy to use, complete with video previews in the browsing function. The device will most likely be priced around Rs. 4,500. There is another version of the device (probably HMP 5000) to be released soon, that would be Wi-Fi capable. The HMP 3000 is slated for release in June.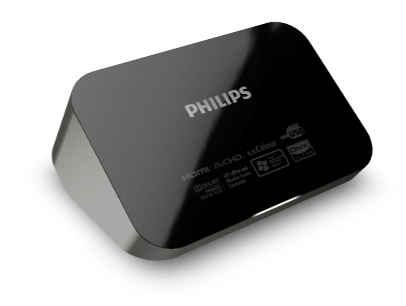 Fidelio Docking Stations
All the Fidelio docks automatically download a customised app, that lets you enhance functionality. The app allows you, apart from playback control, a radio mode with over 7000 internet radio stations with metadata tagging and sharing via Facebook/Twitter connect. It also features what Philips calls a conditional alarm system which allows the user to set up the alarm in such a way that the app will look up local weather and only ring if the weather is up to the users liking. The DS 1100 is to be priced at Rs. 4,999 and is the most entry level offering in the Fidelio series. It features Neodymium speakers, clock display on the body and omni-directional sound. It even charges devices while they are docked.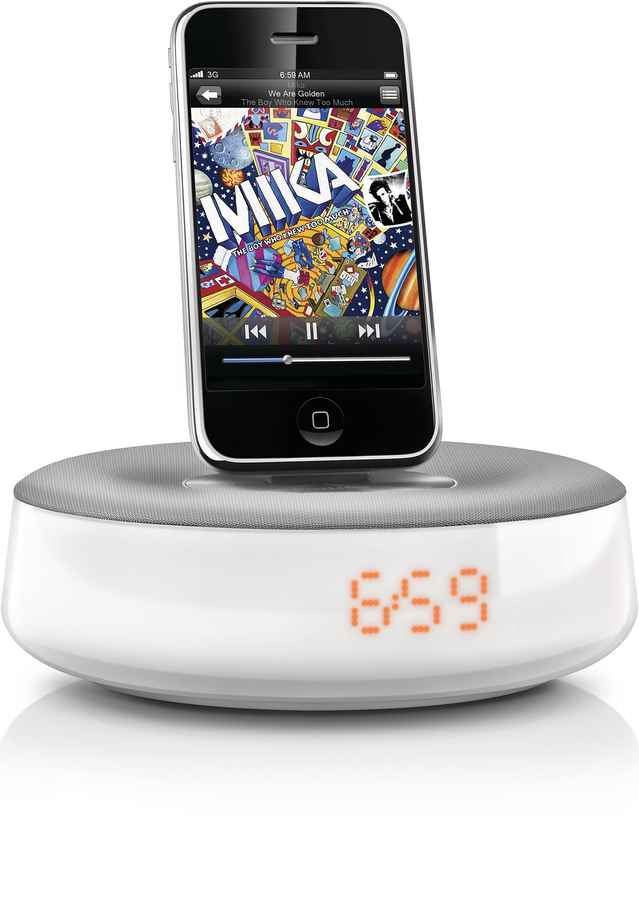 The next docking station showcased was the DS 7550 priced at Rs. 8,999. This baby is a portable solution and comes with an inbuilt rechargeable battery. The aluminium finish is quite attractive too. The flagship device in this series, however, was the DS 9000 priced at a whopping Rs. 39,999. It featured a wooden body and back-lit controls that light up when you enter its proximity. From what little we heard in the demo, the sound was certainly impressive. All these docks are slated to hit stores by early May 2011.
Blu-Ray Players
Showcased at the event were the BDP 7500 and BDP 3200 Blu-ray players. However we would rather focus on one model that was not demoed but holds promise. We're talking about the BDP 5200 is to feature web content. This is one area in which Philips has been lagging behind especially when compared to guys like Sony. But hopefully the launch of BPD 5200 will change that. The 3D capable BDP 7500 is already available in the marked while the other two players are to launch in Q2, 2011. Pricing details are unavailable as of now.
DVD Players
A rather unique product was the DVP 3868G DVD Player. The G in the model name indicates that it is capable of playing games off a DVD. Philips bundles a wireless (IR) controller and 30 free games with this unit, with more games in the pipeline. So how good are the games? They're very basic .smf games that are atavistic of the 8-bit era. But targeted at the very young kids, say in the age group of 3 to 7, the concept might actually work. Considering typical Indian buying behaviour, wherein adults often take the entire family along for any electronics purchase, it's not difficult to imagine a 5-year old throwing a fit to buy them this device. The best part however is the price. At Rs. 3,290 it's extremely competitively priced with hardly any premium charged for the added feature.
Scoop:
Marcin Nocon, Senior Marketing Manager, BU Audio, Video & Multimedia, Philips Consumer Lifestyle, hinted at two devices in the offing (subject to approval) that make use of video via Apple's AirPlay. We'll have to keep a close eye on that...