Gigabyte has filed for the certification of forty different SKUs of the Nvidia GeForce RTX 2060 graphics card, even though NVIDIA is yet to announce the card
According to a new filing on the Eurasian Economic Commission (EEC), Gigabyte seems to be preparing 40 different SKUs of the yet-to-be-announced NVIDIA RTX2060. The leak outlines every model that Gigabyte will launch on the RTX2060 platform, but more importantly, reveals a graphics card that NVIDIA is yet to announce; the NVIDIA GeForce RTX 2060.
The filing lists SKUs with 6GB, 4GB and 3GB RAM, with each of them having a GDDR6, GDDR5x and GDDR5 memory architecture. The filing does not list the number of CUDA cores for the cards, and neither does it shed light on the clock speed or the memory bus. What it does reveal is that there is that consumers had better brace themselves for what is going to be a very confounding product portfolio. Not only are there three VRAM variants, but each of those is going to have variants based on the memory architecture as well. The listing shows that all models are split into GC and GD series, with the latter having been used to denote models in the 20 series that ran with GDDR6 memory. The use of GDDR5 would be interesting as NVIDIA's Turing architecture so far has only used GDDR6 memory.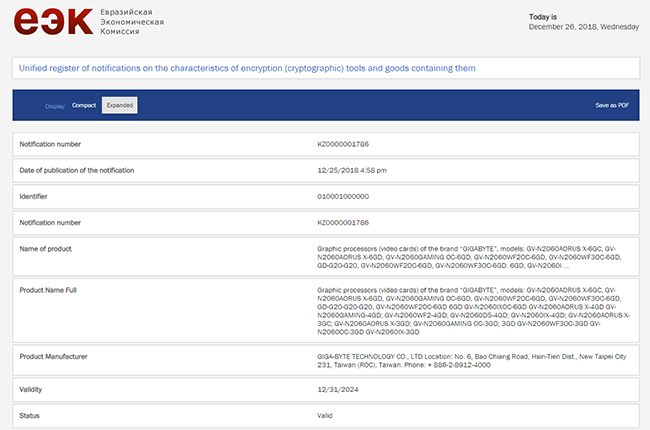 It is entirely possible that Gigabyte is filing for certification of every possible configuration, even those that it may never end up producing. However, with NVIDIA hosting a conference at CES 2019, we expect the company to shed more details on the NVIDIA GeForce RTX2060.